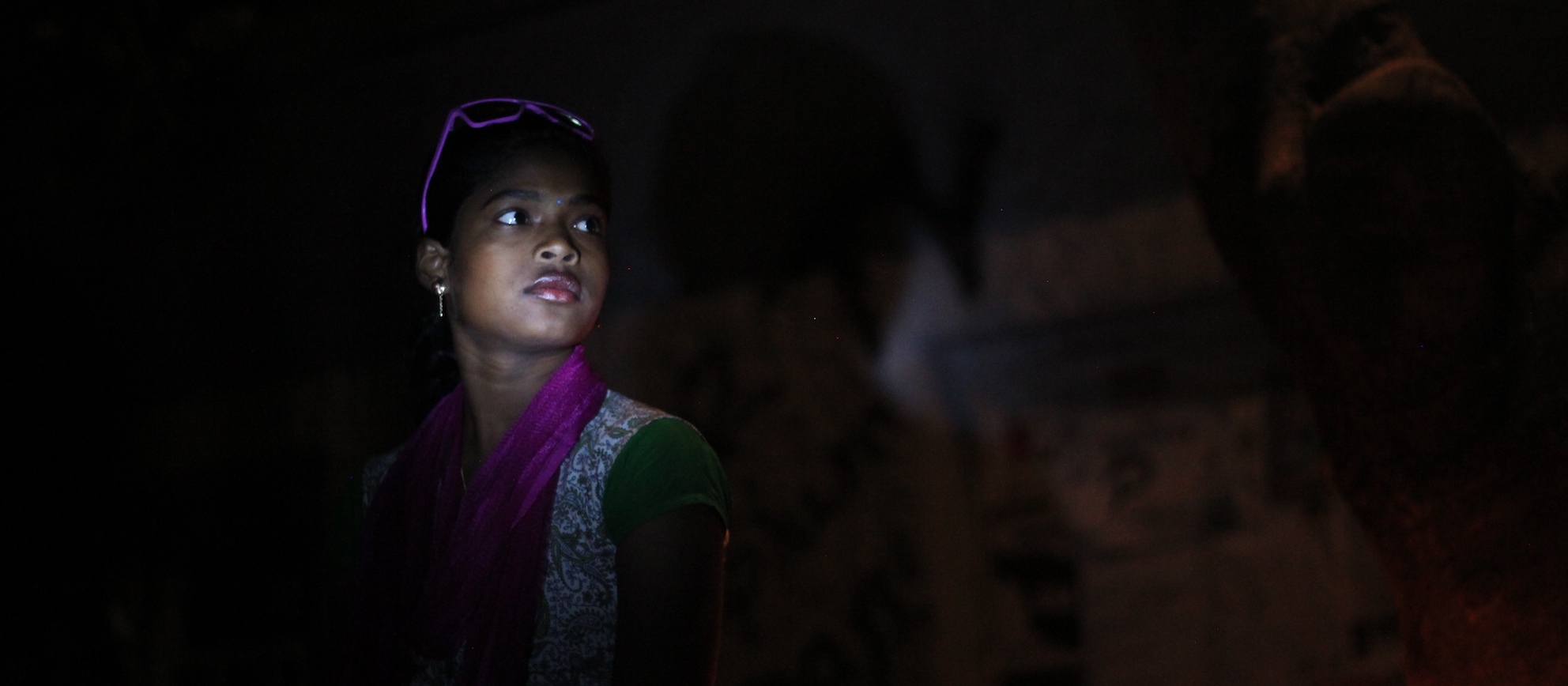 Partly inspired by the thinking of Gilles Deleuze, the conviction that inhabits us at Trimukhi Platform is the following: in order to produce art and thought today, with quality, rigour and relevance, we need diversity – human and social diversity. For when art creation today consists in disposing of differences, combining them to produce original potentials (aesthetic effects), the notion of social action changes meaning: in order to expand the possibilities of heterogeneous combinations, it is important to put different human worlds into contact – and, as a result, to nurture social links. Similarly, while thought generation – through the reinvention of terminology – promotes continual questioning of practices, it requires, to attain a level of relevance, diversity in points of view and experiences; here again, 'others' are necessary.
Things started rather simply in 2008 when I directed a performance (Monsoon Night Dream) in collaboration with fifteen Santhal musicians, dancers and actors, a performance initially staged in the tribal village of Borotalpada (220 km to the southwest of Calcutta) and later presented, with the support of the Indian Ministry of Culture, at Eastern Zonal Cultural Centre and Jadavpur University. But rapidly, things started growing to a new scale. In 2010, a village assembly decided in favour of the construction of a cultural centre where projects such as the 2008 staging (in other words, projects to do with contemporary practice of the arts) could find a forum.
To take time to examine the issues that this type of collective desire raised, we organised, in January 2011, at Modern Academy of Continuing Education (MACE), Calcutta, an international internal seminar. We gathered academics, artists and social workers fromMexico, India and France to listen and speak to us, and, by speaking to us, to enrich our views, to widen our horizons. Women from rural, tribal and semi-urban areas of Bengal were also invited: their testimonies and analyses helped us to not lose sight of the concrete realities in which we wished to be inscribed.
Discussions lasted five days, preceded by three days of discovery-visits (families living on the street, Muslim and Christian families, the untouchable district, the red-light district and the village of Borotalpada) to offer more practical elements to nourish theoretical reflections. Following this seminar, it was decided that the construction of the Cultural Centre would be accompanied by the seeking of an administrative status for Trimukhi Platform, which thus became a non-profit organisation, with two-thirds of its members being Santhal villagers from Borotalpada (about eighteen families, including children).
Set up on a voluntary basis, the construction of the Centre took several years – especially as some damage was caused by a cyclone in 2013… But cultural activities started as of autumn 2011. Apart from visual-creation workshops (two by a Mexican and one by two Colombian artists), I suggested that we continue the festival that I had previously organised in Mexico City: the Night of Theatre. The Indian event would reproduce the Mexican one on one point: directors and choreographers from Europe, Latin America, Asia or Africa would be invited to work on the spot for a few weeks with artists from the host country, and together prepare performances presented on the Night. (In Mexico, creations were then restaged during the season for a couple of months.) In the Indian event, what changed, from the perspective of our guests, was that collaboration was developed with actors and dancers who were also tribal farmers; from the perspective of our spectators, what was different was the organisation of the festival, not in a cultural hotspot in a large urban centre, but on the periphery, in aremote village. In February 2012, we had proof that there was meaning in our wager: for Night of Theatre n°5, some fifty urban spectators, after five and a half hours of travelling, by train then bus, mingled with the public from the tribal zone (around 300 persons). Here is an extract of the leaflet programme we distributed during the event:
There are those who are in the geographic centre (and at the top of the society) and there are all the others who are at the periphery (and at the bottom of the society). Usually a Cultural Platform is built in a "posh" area (or high middle class zone) and in a big city. Here, it is about to do exactly the opposite: to situate the Centre in a remote village with no resource. And to do it in such a way that those who coordinate this platform will be those who habitually do not coordinate anything – because they are, as the tribal in India, peripheral peoples. Actually, it is very interesting to listen the desires of each one in Borotalpada village regarding the artistic activities they wish to have implemented. On one hand, there is the strong desire to keep alive cultural singularities and, on the other hand, there is the wish to discover other forms of practices and knowledge – for architecture or for agriculture, for painting or singing, for theatre or for dance, there are, at the same time, the desire to go deeper in one's own uniqueness and the desire to be enriched by the multiplicity – one feeding the other.
Ever since then the Night of Theatre has been held every year.
Decisions on projects to undertake and artists to invite continued to be taken collectively. Similarly, the evaluation of activities gave rise to group meetings. But we still needed moreautonomy. We understood this while reflecting on this problem with a French anthropologist (Marc Hatzfeld) and a Colombian choreographer (Sandra Gomez). With the pretext of an agreement signed with the Barcelona Institute of Theatre (allowing us to welcome Masters students for their practical internships), we launched an innovative pedagogical programme: giving twelve young villagers (who, apart from having the proper leanings, would soon play active roles in the life of the community) the tools and knowledge enabling them to carry out, in the Cultural Centre, with rigour and responsibility, all the singular projects that they would have the desire to see implemented.
We didn't really know what we were getting ourselves into. It was a matter of meeting concrete needs in certain domains, stimulating creative capacities in others. The first session, ten days long, took place in July 2014: Spanish lessons, analysis of artworks, vocal training, microphone handling, sound exploration via the body. The second session in December 2014 included a writing workshop, awareness-raising on health problems, namely drinking water (at the request of the young people), English lessons, production management of performing arts, elaboration of a twelve-month cultural programme. The third session, in May 2015, covered computing, initiation to Internet and an online anthropology workshop on "poetics of the land". The fourth session was held in October 2015: conclusion of the anthropology workshop and sound exploration through Santhal musical instruments. The contributors – artists, universityprofessors, post-graduate students – came from France, India and… Venezuela.
This programme – aiming not to teach but to stimulate, not to train but to catalyse – is as efficient as it is joyful. As long as they begin to stand out, desires take shape and art becomes more relevant and effective. For example, for Essay on Seasonal Variation in Santhal Society, the show on which we were working for Night of Theatre n°9 • La Nuit des idées, I was collaborating with a 15-year-old Santhal girl (whose first experience in theatre with us dates back to 2008!). Part of the text was written by two villagers aged 24 and 16. The same goes for the video filming of rehearsals and the use of computers during the performance.
Together, we are coming up with surprising setups such as Try Me under Water, a nocturnal journey in the countryside surrounding the village, punctuated by minimalist interventions (beams of light on a field, faces projected onto a tree, a bicycle crossing a path, bodies entering water), which reshape the landscape and the contemplative experience the audience have of it. In 2016, with the support of the Alliance française du Bengale, Jadavpur University and MACE, a new staging in Kolkata of Bachchader Experimentum, our previous performance, confirms this intuition. The latter was presented for five successive days in five different public spaces, which, far from being a handicap, proved to be a source of constant aesthetic inventions.
So we have not stayed in the one spot. It was necessary for movement not to be limited, for it to go further. This is how the idea of "professionalising" our young team came to light: We intend to prepare twelve young Santhal villagers, each with his or her own speciality (such as contemporary dance, literary writing, video art, sound art or theatre direction), to become art professionals with access, if they so wish, to international perspectives. It is not academic training that is at stake, but an inventive gesture. If we hope for the arts that to remain alive, that they drag on us and disturb us, there can be no question of merging young talents – those who, tomorrow, will be at work – in a mold of what artistic practices should be today. The core of the issue lies in listening to desires, singularities, in such a way as to support each and every person in his or her blossoming – supporting them, thus, with attention and rigour, means being their contemporary, in the etymological sense of this word.
Our friend of unbridled wisdom Patrice Maniglier proposed that we call this dynamic the Borotalpada International Reciprocal School. And he added: "BIRS… it's all about moving a world in another to globalise finally!"
To be continued.
---
published in Fabricate (Fabric of) Art • Fabrique de l'Art, n°3/4, Kolkata, Trimukhi Platform, 2017-2018, p. 81-85.
⇒ read the published version (PDF)
---