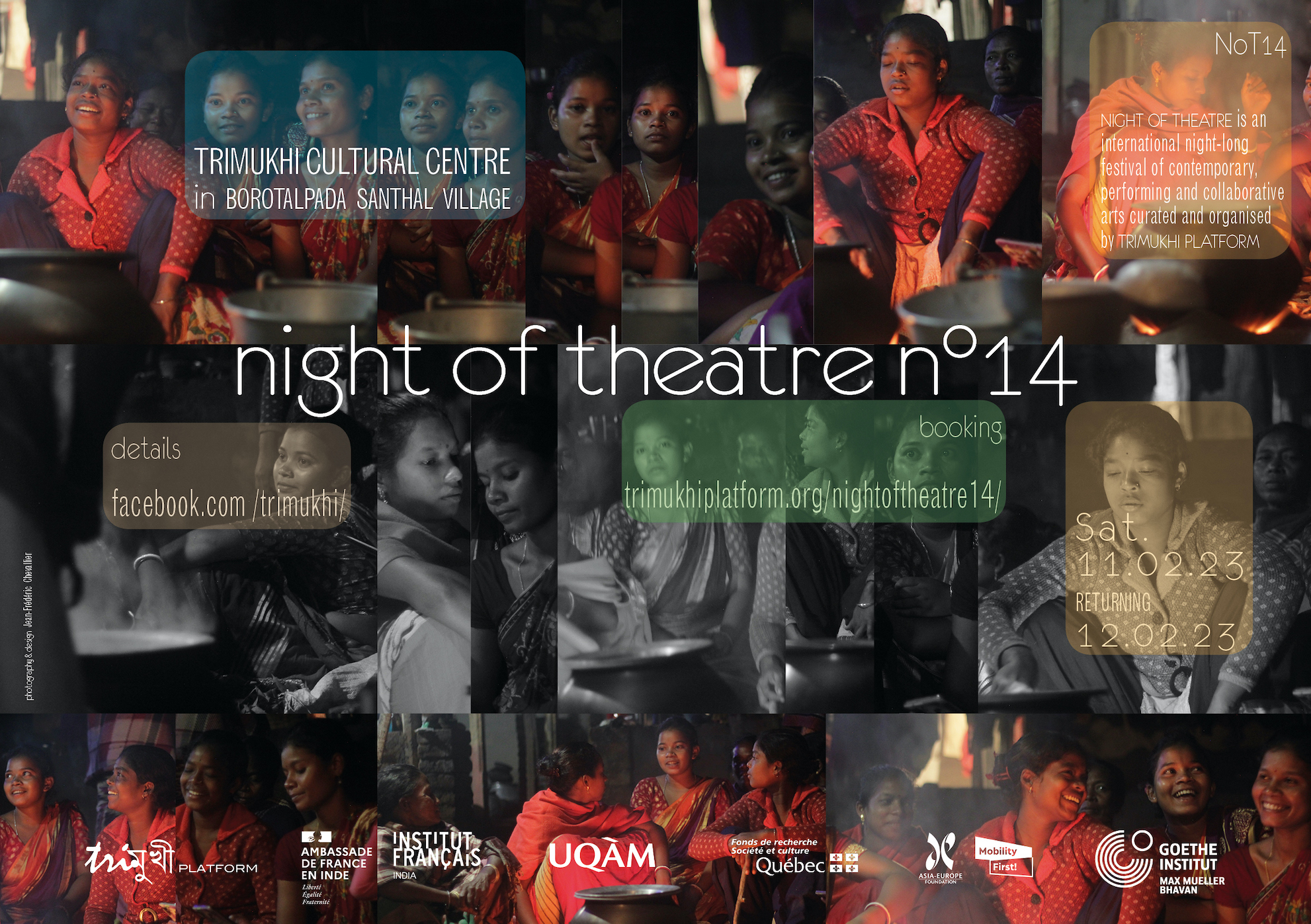 NIGHT OF THEATRE is an international night-long festival of contemporary, performing and collaborative arts curated by Trimukhi Platform and organised yearly at Trimukhi Cultural Centre in Borotalpada Santhal village, Jhargram, West Bengal.
Held in partnership with the Embassy of France and the French Institute in India, the Goethe-Institut / Max Mueller Bhavan Kolkata, the Amala Dianor's dance company and the French Institute in Paris, the University of Québec in Montréal and the Québec Research Fund, the 14th edition takes place on Saturday, February 11, 2023. The journey from Kolkata will start at noon, coming back to town early morning next day. The 2023 programme involves around 50 Santhal performers from Borotalpada village with a solo dance and a trio choreographed by French-Senegalese Amala Dianor, an open air exhibition designed by Bengali Sumantra Mukherjee, a dance-theatre performance, an happening in memory of Jean-Luc Godard and a video art installation directed by French Jean-Frédéric Chevallier and Bengali Sukla Bar Chevallier, a sound art piece in memory of Samantak Das composed by Canadian André Éric Létourneau and introduced by Bengali Nikhilesh Bhattacharya, a series of Santhal dances selected by Falguni Hansda and Molina Soren, a midnight dinner, a multicultural dance party and a philosophical conversation with the artists about theatre and community moderated by Ashoka University Performing Arts director Justin McCarthy and Rouen University professor Mariana Camargo.
Booking is available online by clicking here or well on the red button bellow. The number of guests from outside Borotalpada village is strictly limited. The contribution fee of INR 3,000 covers journey (220 km) from and to Kolkata by express train and then private bus, tea/snack at arrival in the village, entrance to all the events of the festival and midnight dinner.
COME 3 AND PAY FOR 2 ONLY ⇒ INR 6,000 before JAN 24, 2023
33% STUDENT DISCOUNT ⇒ INR 2,000 before JAN 24, 2023
NIGHT OF THEATRE n°14 is supported by Embassy of France in India & French Institute in India, Goethe-Institut / Max Mueller Bhavan Kolkata, University of Québec in Montreal (UQAM), Fonds de Recherche du Québec. Two of Trimukhi Platform artworks to be showcased during the festival are co-produced by Danse élargie 2020 (Théâtre de la Ville, Paris) and Asia-Europe Foundation (ASEF). Amala Dianor's dance company is supported by French Ministry of Culture (DRAC Pays de la Loire) and French Institute in Paris, Pays de la Loire District, Municipal Corporation of Angers and BNP Paribas Foundation.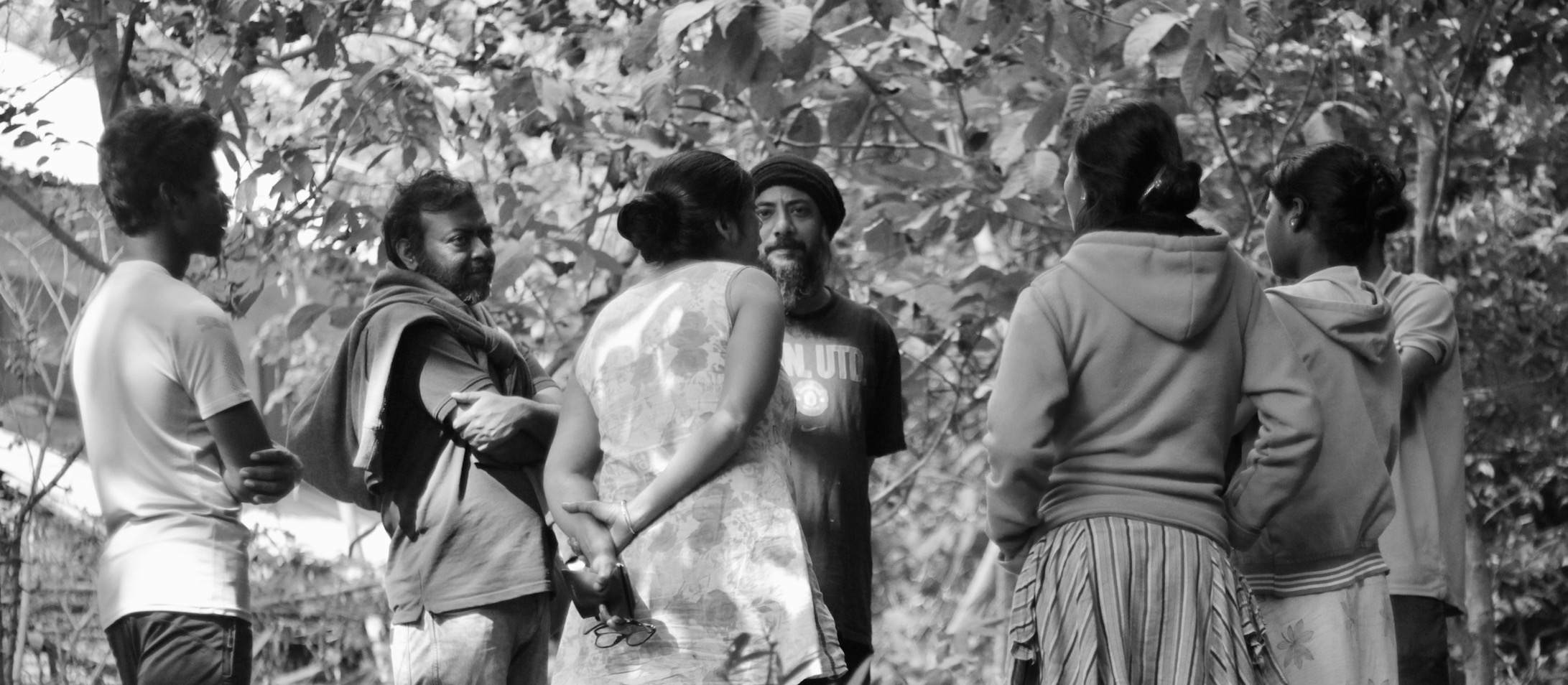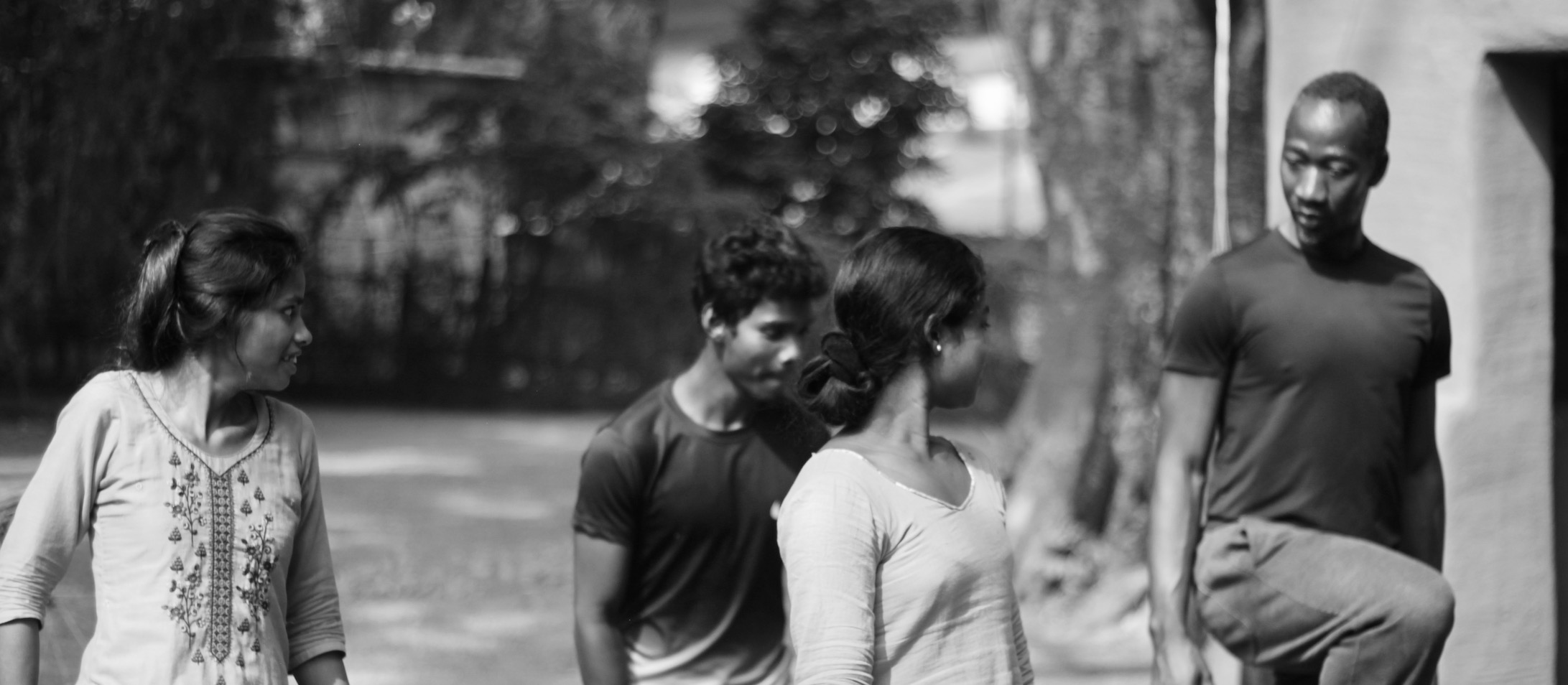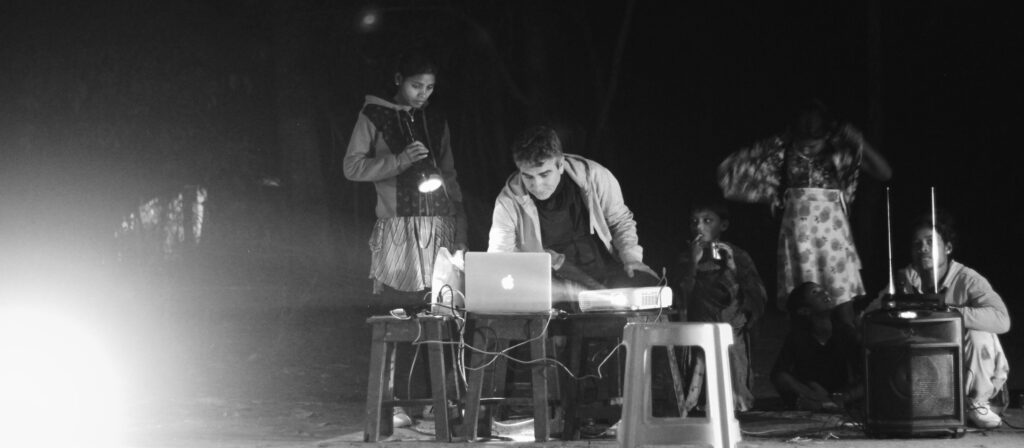 PRE-PROGRAMME
subject to many interesting changes
JANGA DA
— a santhal welcoming ritual to be enjoyed with black tea & warm snacks
performed by Falguni Hansda Ξ Parboti Hansda Ξ Pan Hansda Ξ Sombari Hansda Ξ Mado Hembrom Ξ Molina Soren
KIYA BAHA [FLOWERS OF KIYA]
— a buru jatra santhal dance & music performance
coordinated by Falguni Hansda Ξ Mado Hembrom Ξ Molina Soren played by Kanai Hansda Ξ Kisun Hansda Ξ Potoram Hansda Ξ Motilal Hansda Ξ Suren Hembrom Ξ Bhogan Hembrom Ξ Lalmohon Hembrom Ξ Chamru Soren Ξ Vikram Soren Ξ Nando Soren performed by Falguni Hansda Ξ Delko Hansda Ξ Pan Hansda Ξ Sombari Hansda Ξ Salge Hansda Ξ Sumila Hansda Ξ Parboti Hansda Ξ Munki Hansda Ξ Gurubari Hembrom Ξ Mado Hembrom Ξ Rupali Hembrom Ξ Sukmuni Hembrom Ξ Mamoni Soren Ξ Molina Soren Ξ Soni Soren
— words of introduction by Motilal Hansda (morol of Borotalpada village) & Jean-Frédéric Chevallier (director of Trimukhi Platform)
OUTDOOR THOUGHTS / PENSÉES DU DEHORS
— a dance-theatre performance 
composed by Trimukhi Platform directed by Jean-Frédéric Chevallier produced by Sukla Bar Chevallier performed by Joba Hansda Ξ Sukul Hansda Ξ Surojmoni Hansda with the participation of  Maria Hansda Ξ Kunami Murmu text & video projection Jean-Frédéric Chevallier bengali translation & scenography Sukla Bar Chevallier santhali translation Surojmoni Hansda electrical, light & stage set-up Sukul Hansda
IN MEMORIAM SAMANTAK DAS
— a few words followed by a sound art piece
spoken by Nikhilesh Bhattacharya composed & edited by André Éric Létourneau
COOKING STONE
— a video-dance installation premiered at théâtre de la ville, paris
composed by Trimukhi Platform directed & filmed by Jean-Frédéric Chevallier produced by Sukla Bar Chevallier performed by Dhananjoy Hansda Ξ Joba Hansda Ξ Ramjit Hansda Ξ Salkhan Hansda Ξ Sukul Hansda Ξ Surojmoni Hansda video editing & sound design Jean-Frédéric Chevallier in complicity with Sukla Bar Chevallier
IN MEMORIAM JEAN-LUC GODARD
— a tender happening
composed by Trimukhi Platform directed by Jean-Frédéric Chevallier produced by Sukla Bar Chevallier performed by Jean-Frédéric Chevallier Ξ Renée Chevallier Ξ Joba Hansda Ξ Surojmoni Hansda with extracts from "a woman is a woman" Ξ "alphaville" Ξ "nouvelle vague" Ξ "the book of images" by Jean-Luc Godard & "mané 100" by Jean-Frédéric Chevallier artistic inputs by Joseph Danan
MASS-Q-LINE @ BOROTALPADA
— an open air exhibition
painted & designed by Sumantra Mukherjee team for the setting up at Borotalpada Remille Bargi Ξ Agnibesh Ghosh Ξ Sumantra Mukherjee Ξ Anup Pramanik Ξ Subhajit Swarnakar with the collaboration of Ramjit Hansda Ξ Sukul Hansda Ξ Dhani Hansda
IN MOHUA VERITAS
— a female singing series in front of a santhal house
sang by Mado Hembrom Ξ Molina Soren
MAN REC [ONLY ME]
— an urban to contemporary dance solo premiered at festival d'avignon, france
choreographed & danced by Amala Dianor original music composed & played by Awir Léon lighting & technical support by Jean-Frédéric Chevallier
একসাথে / ÈKSHATHÉ
— a contemporary dance performance in an open field
choreographed by Amala Dianor with the complicit gaze of Jean-Frédéric Chevallier danced by Joba Hansda Ξ Sukul Hansda Ξ Surojmoni Hansda produced by Sukla Bar Chevallier lighting by Sukul Hansda technical support by Dulal Hansda Ξ Jiten Hansda Ξ Robi Hansda
THEATRE & COMMUNITY
— a philosophical conversation
moderated by Mariana Camargo Ξ Justin McCarthy with Nikhilesh Bhattacharya Ξ Jean-Frédéric Chevallier Ξ Amala Dianor Ξ Motilal Hansda Ξ Sumantra Mukherjee
— words of thanks by Didier Talpain (Consul General of France in Kolkata) & Justin McCarthy (Ashoka University Performing Arts director)
THE HAPPY HEARTED ONES
— a midnight dinner for around four hundred guests
prepared by Kanai Hansda Ξ Kalicharam Hembrom Ξ Mirja Hembrom Ξ Robi Murmu Ξ Jodu Mahali Ξ Robi Murmu Ξ Chamru Soren coordinated by Sukla Bar Chevallier for Trimukhi Platform served by Falguni Hansda Ξ Delko Hansda Ξ Pan Hansda Ξ Sombari Hansda Ξ Parboti Hansda Ξ Ganga Hansda Ξ Gurubari Hembrom Ξ Mado Hembrom Ξ Fulmoni Murmu Ξ Mamoni Soren Ξ Soni Soren
LITTLE MOVES NEARER TO PEOPLE
— a multicultural dance party
mixed by Sukla Bar Chevallier Ξ Mariana Camargo Ξ Jean-Frédéric Chevallier Ξ Amala Dianor Ξ Joba Hansda Ξ Surojmoni Hansda live music by Kanai Hansda Ξ Kisun Hansda Ξ Suren Hembrom Ξ Chamru Soren Ξ Vikram Soren Ξ Nando Soren lighting by Sukul Hansda
---
this programme is lovingly woven by Jean-Frédéric Chevallier for Trimukhi Platform in constant complicity with Sukla Bar Chevallier, Falguni Hansda, Joba Hansda, Motilal Hansda, Sukul Hansda, Surojmoni Hansda and in close collaboration with Nikhilesh Bhattacharya, Amala Dianor, Justin McCarthy, Sumantra Mukherjee
---
---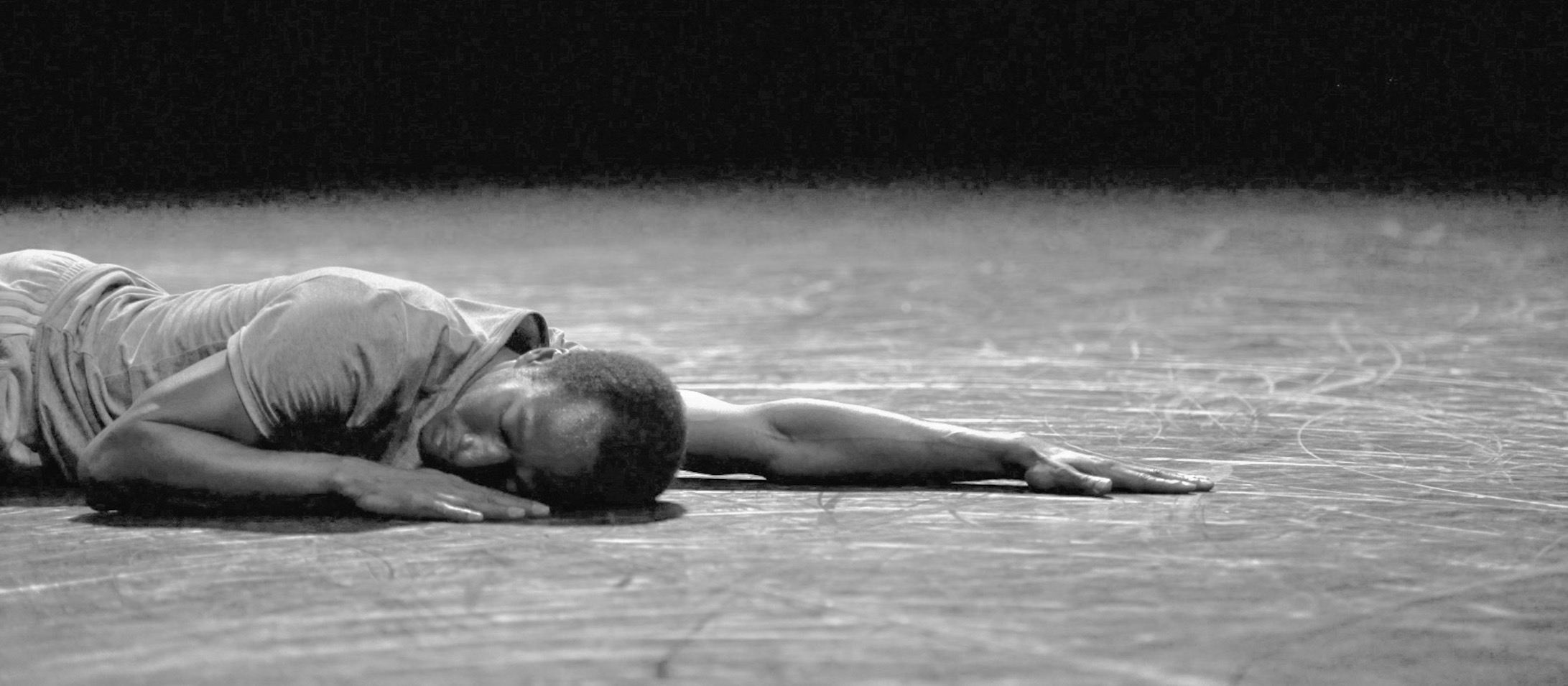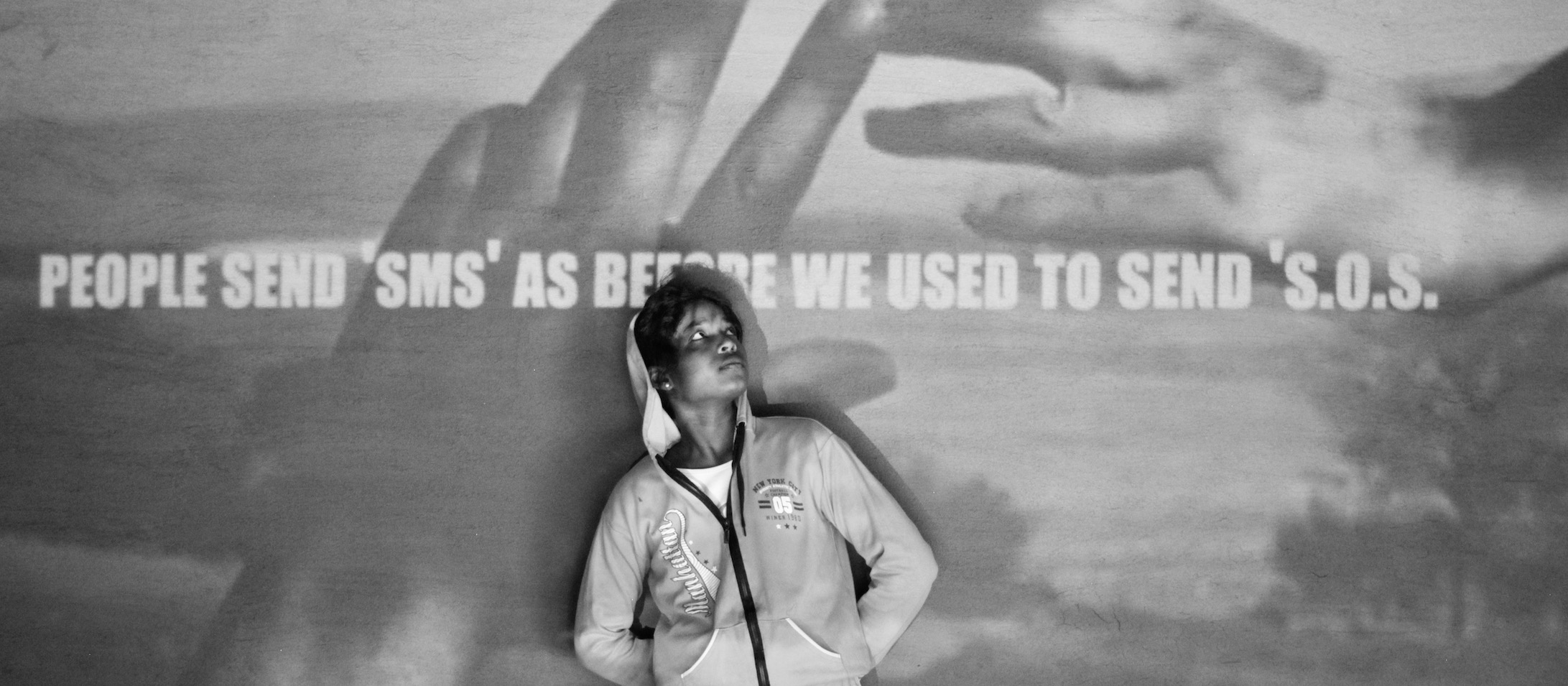 ⇒ mexico city 2009
⇒ borotalpada village 2017
13 NIGHTS ALREADY
from mexico city to borotalpada village