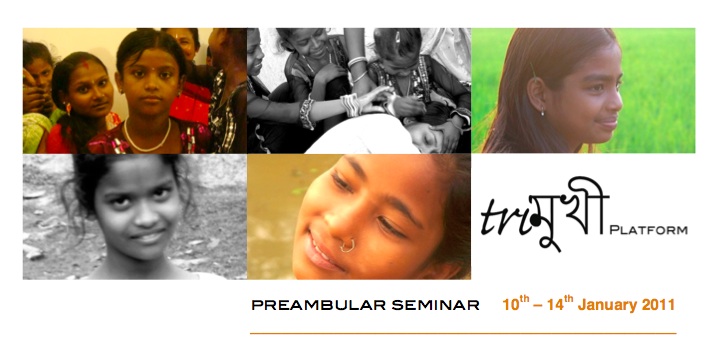 ---
During five days Trimukhi Platform's guests, university professors, performing artists, social activists from India, France and Mexico met in Kolkata and discussed together about social action, artistic creation and academic research. Indian unprivileged women from tribal, rural and city also participated to the encounter by giving testimonies and making the discussions more concrete. This internal seminar was the start point for the legal creation of Trimukhi Platform as a Bengali non-profit organisation. The seminar took place in Kolkata from 7th to 14th January 2011. The first three days, Trimukhi's guests were visiting parts of the city of Kolkata and meeting minority groups and Santal village of Borotalpada in West Mindnapur District. Conferences and discussions started: from 10th January tiil 14th January 201, daily. Participants were: Sukla Bar Chevallier and Jean-Frédéric Chevallier from Trimukhi Platform (Kolkata), Damayanti Lahiri from Modern Academy of Continuing Education (Kolkata), Léo Jalais from Howrah South Point (Kokata), Laurent Fournier from Architecture Bengali Group (Kolkata), Tania Barberan from Mexico Corporation University (Mexico City), Beatriz Vaca Dominguez from French Agency of Development (Mexico City), Yadir Sanchez from Web-radio (Mexico City). Phalguni Hansda (Borotalpada), Mallika Biswas and Shyonee Mitra (Kolkata) participated too by giving concrete testimonies.
---
10th January. 15:00 – 19:00 MACE – Introduction: arts, theoretical research and social work
Trimukhi Platform dynamics (Jean-Frédéric Chevallier)
The Indian context(Léo Jalais)
Dynamics in context (Sukla Bar Chevallier)
Chiapas: Collective construction of wisdom (Tania Barberan)
11th January. 10:30 – 18:00 TRIMUKHI OFFICE – What is a link (relation) about?
Three relations where 1 + 1 = 3(Jean-Frédéric Chevallier)
Change of relation set-up during Durga Puja (Laurent Fournier)
Telling stories threw relations between pictures (T. Barberan)
When relations change? (Mallika Biswas)
Links in movement in a Santal Village (Falguni Hansda)
A relation above the work (Debajani and Sania)
Conclusion of the day  (Beatriz Vaca)

12th January. 15:00 – 19:00 MACE – Minorities, singularities and uniqueness
Remembering the first two days (Tania Barberan)
A minority: women, Christian and "poor" (Mallika Biswas)
Uniqueness (Sukla Bar Chevallier)
Tribal singularities (Falguni Hansda)
Making an artistic work a long lasting action (Beatriz Vaca)
Conclusion of the day (Tania Barberan)

13th January. 13:00 – 17:00 OLYPUB – Desire, multiplicities and financial capitalism
Adda session (Sukla Bar Chevallier, Tania Barberan, Jean-Frédéric Chevallier, Falguni Hansda)
14th January. 15:00 – 19:00 MACE – What sort of concreats projects for Trimukhi?
Conclusions session (Sukla Bar Chevallier, Tania Barberan, Somasree Basu, Arup Batacharia, Mallika Biswas, Jean-Frédéric Chevallier, Falguni Hansda, Damayanti Lahiri, Shyonee Mitra, Girish Soren)
OTHER ACTIVITIES
6th January – Diner for Welcome

7th January– Visit of Kolkata and talks with minorities groups
8th/ 9th January – Visit of Borotalapada Santhal Village

11th January– Mexican diner

12th January– Music Festival at Ramakrishna Mission Institute of Culture
13th January – Film "Moner Manush" at Nandan
14th January – Last supper at Trimukhi Office
ART & THOUGHT
THOUGHT & ART
---
discussions proposed by Trimukhi Platform  in partnership with MACE