Directed by Jean-Frédéric Chevallier, in collaboration Chandrai Murmu and Budhray Besra, BACHCHADER EXPERIMENTUM was not "theatre done for children" but surely theatre done by children as this lively experiment was written and performed by Santhal boys and girls aged from 6 to 17 –and performed in 3 different places simultaneously: on the top of a Banyan tree, in the middle of an open field bordering the jungle and inside a mud house–.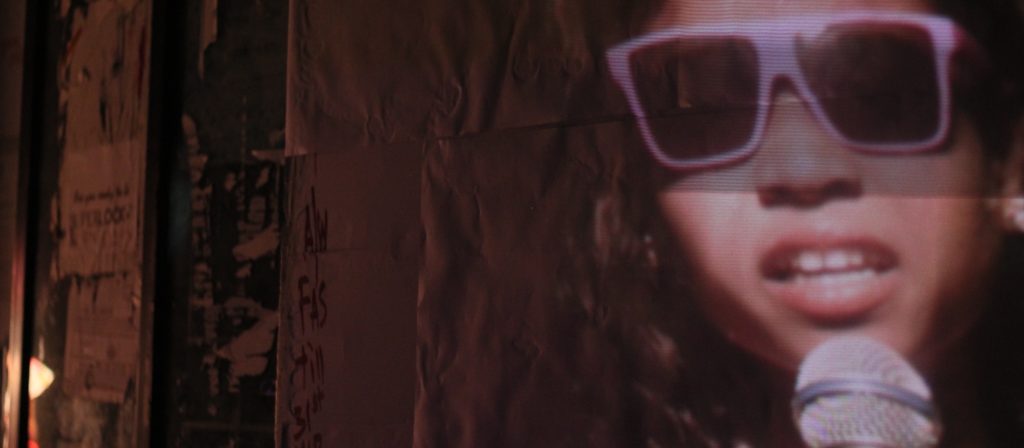 At Borotalpada, theatre neither plays out on a stage as we know it, nor are there props. Here, theatre blends with nature. The village children are the actors. They come up with ideas, think up dialogues and handle lights and the projector. Jean-Frédéric Chevallier puts it all together. He brushes up their innate talent, trains them in keeping time, synchronises their movements with music and strings their acts into sequence. As it grows darker, strains of a lilting song wafts in through the clumps of trees around the mound. A skinny boy of Class IV, Dulal Hansda, emerges out of the dark with a clay lamp in hand and motions the crowd to follow him. He leads the way to a pit beyond the trees where Chintamoni Hansda, a girl in her early teens wearing a yellow frock, sways to a Santhali-Bengali song, the simple lines sounding dreamlike in the dying light. The dry pit on the edge of the village has transformed into a stage by dark. The children dance, climb trees, relate their day's experiences in Santhali. The out-of-town audience do not understand the language, but the rhythm and movements of the actors keep their interest deep alive. "We are doing a type of theatre that viewers in Kolkata don't see. In Bengal, theatre is still classical. It's all about storytelling. For me, theatre is about working with the mind. I want it to be a deep, inner-body experience," says Jean-Frédéric Chevallier.
Rakhi Chakrabarty, "Mind Theatre", The Times of India, January 2, 2016.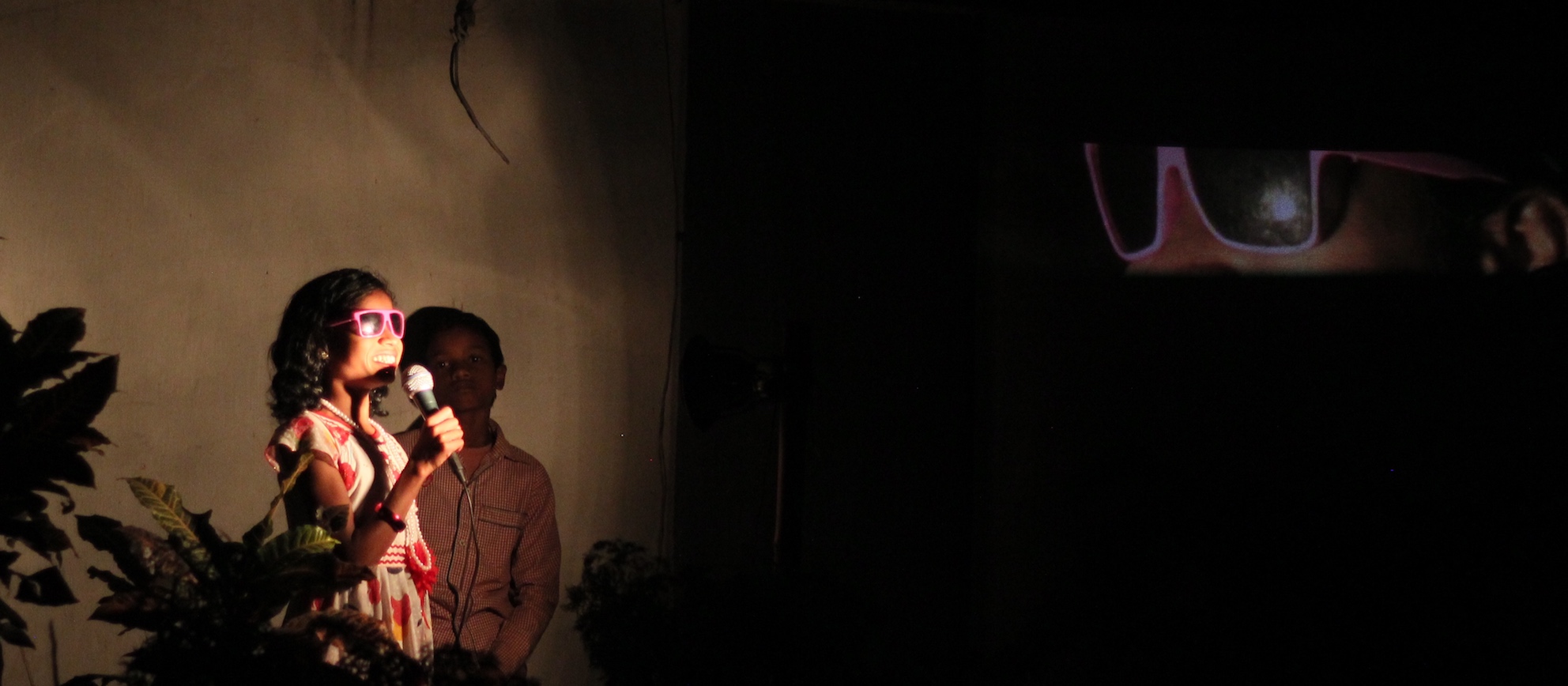 Trimukhi Platform's endeavour to give a chance to the enterprising kids of the Santhal village to showcase their knack of performing arts as BACHCHADER EXPERIMENTUM deserves merit not because it is an effort to restore a tribal talent for the contemporary audience but because it is a testimony that rural artists have a natural propensity towards theatre which conquers the trained modern actors of today. Trimukhi Platform's BACHCHADER EXPERIMENTUM is an effortless effort made in the direction of not only relaxing the anxiety about systematically coherent and cohesive acting demanded of the contemporary actors but also proving to the world that truthful performance often cannot only be calculated according to the stipulated rules. The Bachchas or children of a rustic community are the heroes of this presentation and obviously they are apparently untrained as far as sagacious acting or performance is concerned. It is obvious from their work that they may have been guided by Jean-Frédéric Chevallier monitoring them for the show, but they are ostensibly raw presenters.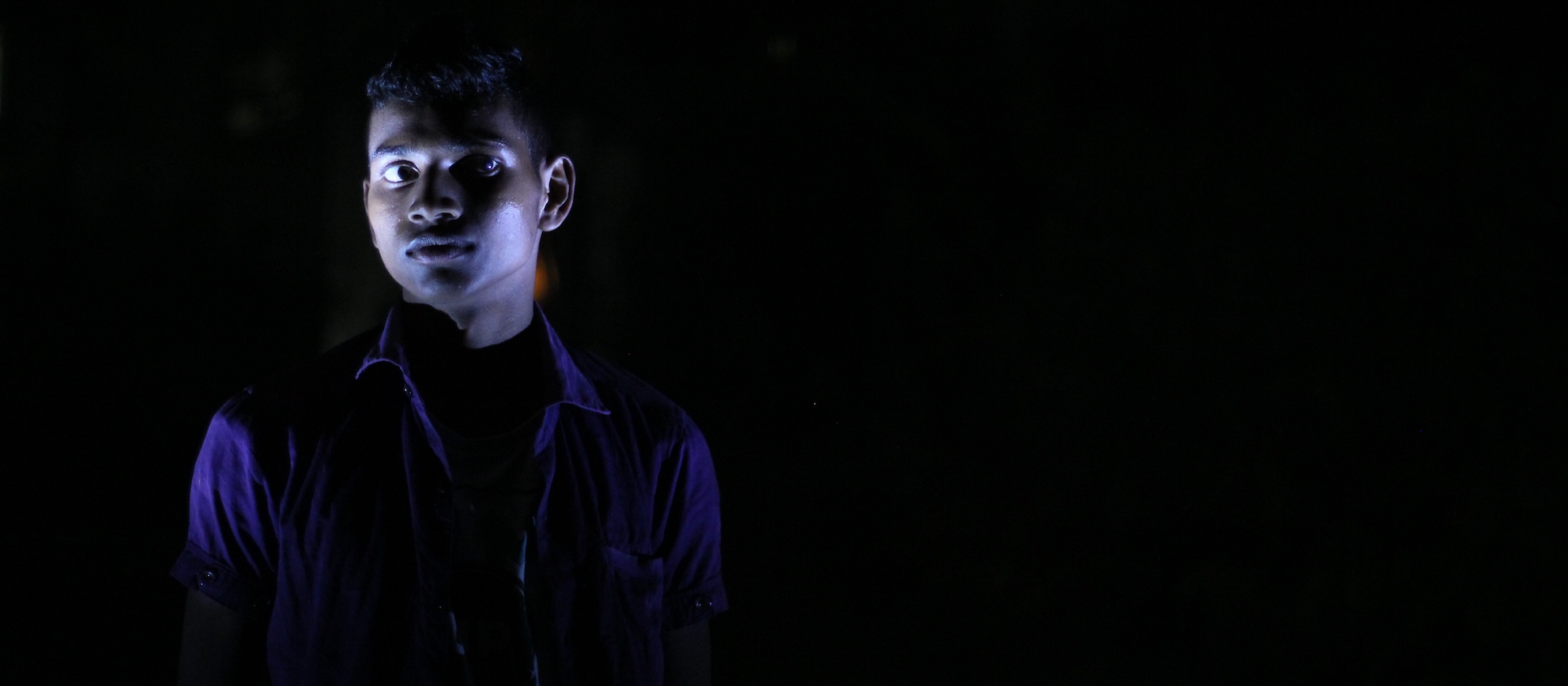 ---
BACHCHADER EXPERIMENTUM 
theatre of presenting
directed by Jean-Frédéric Chevallier in collaboration with Chandrai Murmu and Bhudray Besra produced by Sukla Bar Chevallier for Trimukhi Platform written and performed by Dulal Hansda, Chintamoni Hansda, Joba Hansda, Salkhan Hansda, Sukul Hansda, Ramjit Hansda, Surujmoni Hansda and Pini Soren music composed and recorded by Luis Alberto Mariño Fernandez video live by Dhannajoy Hansda light by Dhani Hansda and Sumi Soren electric set-up by Subir Karmakar and Chandrai Murmu dramaturgy by Bhudray Besra video registration of the rehearsals and the shows Jean-Frédéric Chevallier
---

première on February 14, 2015 at Trimukhi Cultural Centre during Night of Theatre n°8 • second presentation at Trimukhi Cultural Centre on December 19, 2015 • presentations in Calcutta on January 8, 9, 10, 11 and 12, 2015 at Modern High School for Girls (Ballygunge), Bangur Park (Lake Gardens),  Magic Hours Garden, Alipore, Jadavpur University (in front of Subarna Jayant Bhavan) and Minto Park Syndicate (Bhowanipore)
---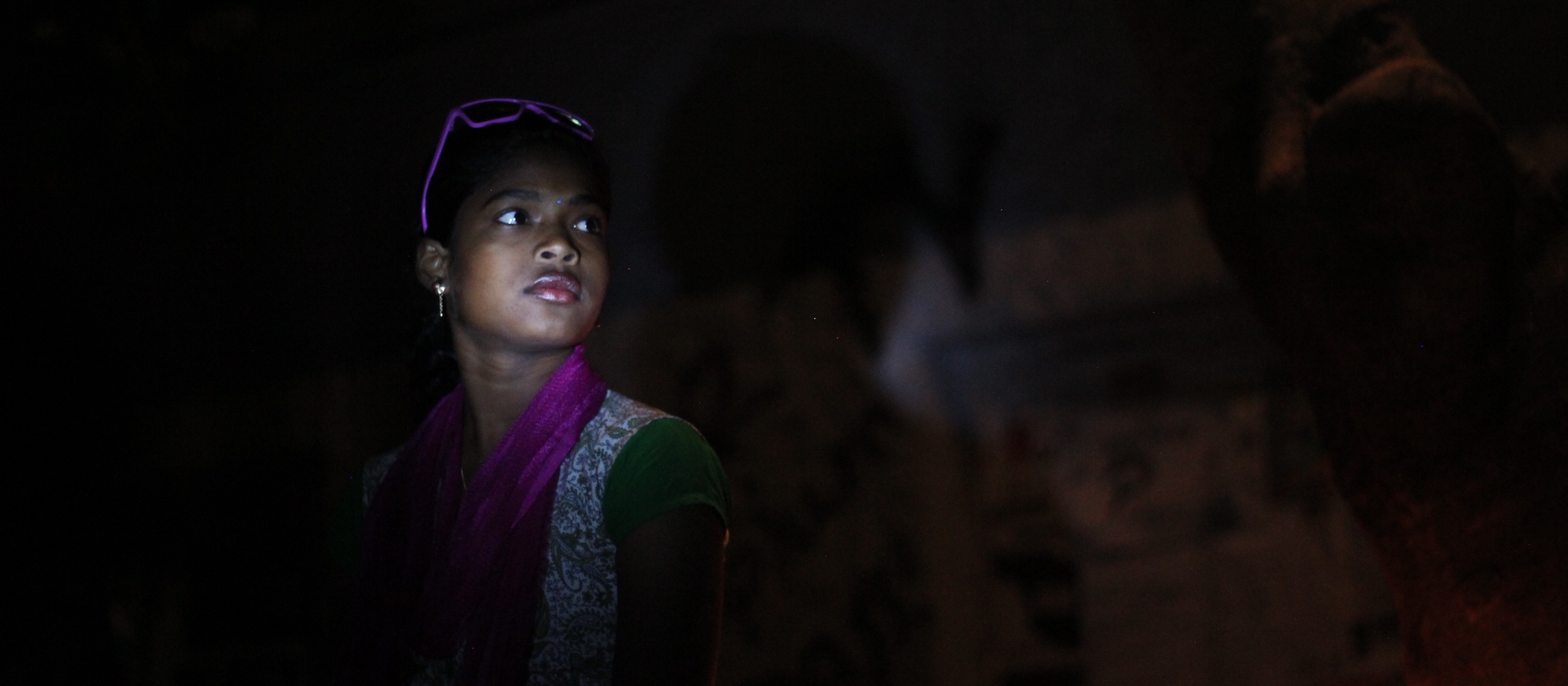 in the press