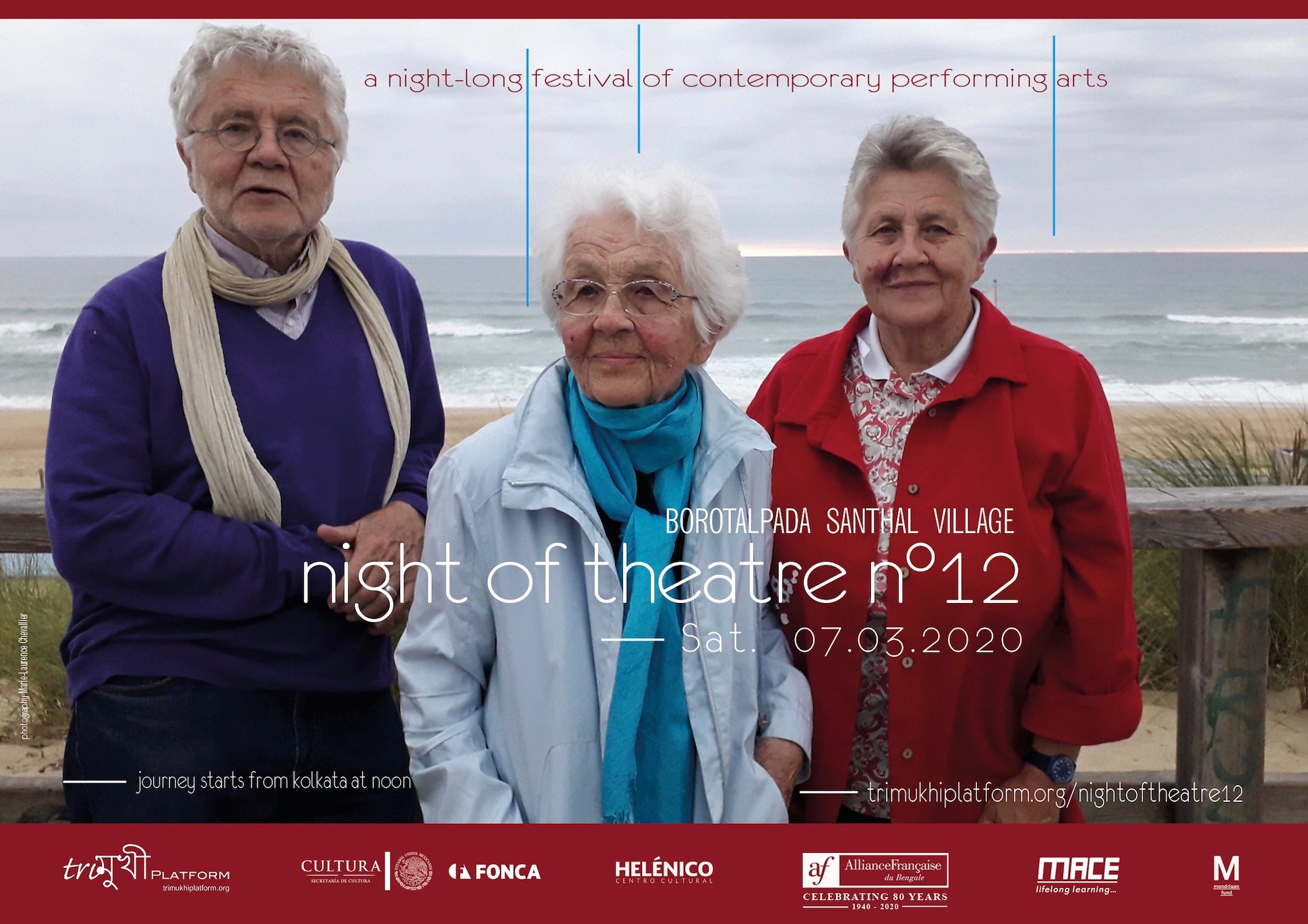 ---
NIGHT OF

THEATRE

n°12, the twelfth edition of the unusual night-long festival of contemporary (i.e. which work to ensure that combinations of differences produce aesthetic consistencies), performing (i.e. which operate here and now), and collaborative (i.e. which call upon the involvement of each and every one) arts that Trimukhi Platform organises yearly took place on Saturday March 7, 2020 in the tribal village of Borotalpada (West Bengal, India). On the programme: a dance and music show, two dance-theatre-video performances in two different locations at the edge of the village, a shorter experimental theatre piece, a sound and visual installation, an happening with action painting and unexpected poetry, a conversation-interaction with the local audience, a midnight dinner and a multicultural dance party. The event concluded around 7 am with the passage of a solitary and old elephant. At the helm of this crazy thing: the entire

Trimukhi Platform

creative team, a bunch of guests, all renown artists, thinkers and directors of Arts Centres from Mexico, Germany, The Netherlands, France and India, anxious to put in question their practice, as well as 18 families from  Borotalpada, quite very used to prepare and enjoy such a unique event.
IMPRESSIONS 
conversation-interaction with audience
with Friso Maecker

•

 Goethe-Institut / Max Mueller Bhavan Kolkata, Karla Rodriguez

• 

Teatro Ojo / Mexico, Antonio Zúñiga

• 

Centro Cultural Helénico / Mexico • moderator Jean-Frédéric Chevallier • Trimukhi Platform • translation 
⇒

video extracts
THE DISCOVERY OF A NEW DISH DOES MORE FOR HAPPINESS OF THE HUMAN KIND THAN THE DISCOVERY OF A STAR
midnight dinner
cooked by Kalicharam Hembrom, Mirja Hembrom, Jodu Mahali, Robi Murmu for Trimukhi Platform 

• organised by Sumita Besra, Dhani Hansda, Delko Hansda, Falguni Hansda, Kanai Hansda, Laksmi Hansda, Panmoni Hansdan, Parboti Hansda, Susila Hansda, Saloti Hembrom • served by the children Bidan Hansda, Budheswar Hansda, David Hansda, Fulgal Hansda • produced by Sukla Bar Chevallier for Trimukhi Platform
⇒

video extracts
FLAVOUR 

SENSATION
multicultural dance-party
mixed by Trimukhi Platform and the guests 

• 

light Sukul Hansda

• 

sound Dhananjoy Hansda, Salkhan Hansda
⇒

video extracts
AN ELEPHANT PASSES 
unexpected happening
That was at around 6 am on Sunday March 8. After, everybody went to sleep.
This is something that we wanted to see. Heard about it some years back...lost track, dates didn't match...something or the other came in the way...always.
But not this time! As soon as the date was announced we registered and last afternoon we were on our way to the tribal village of Borotalpada in Midnapur to experience the Night of Theatre, produced by Trimukhi Platform.
And what a mystifying experience it was. It was a magical experience.....unlike anything that I have seen before.
I am back in the city....but still under its spell.
No questions please....you have to do it...like we did....to know it.
Suchandra Hajra
I joined Trimukhi Platform's 12th edition of Night of Theatre in Borotalpada village of Midnapur.
It has been the best escape from the claustrophobic banality that is threatening to unhinge our sanity is to immerse yourself in art.....in whatever form.
It is soul food for the inner self and a much needed boost for your creative energies.
Uday Hajra
THE 2019 PREPARATIVES FOR THE

NIGHT

2020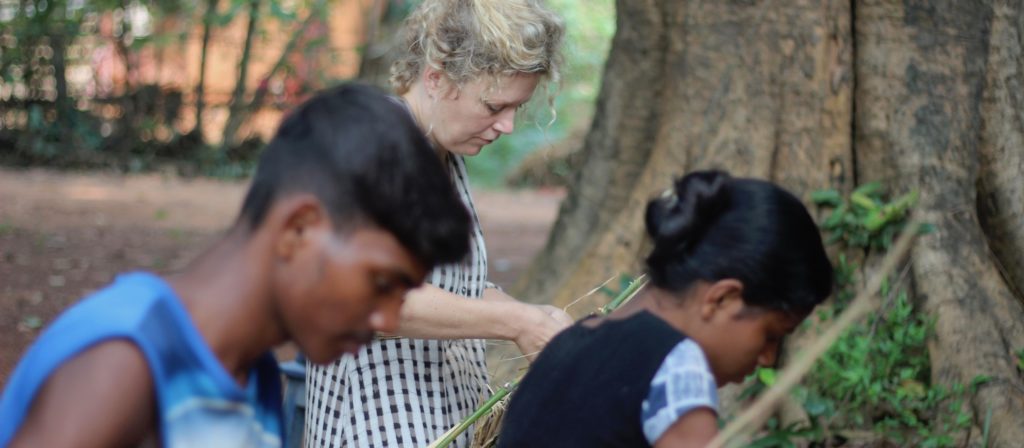 In November 2019, with the support of Mondriaan Fund, 

Trimukhi Platform

invited Ruchama Noorda (The Netherlands) to share with the Santhal team one of her strategy to put on an art installation. During one week, Budhray Besra, Dhananjoy Hansda, Joba Hansda, Ramjit Hansda, Salkhan Hansda, Sukul Hansda and Surojomoni Hansda worked together with Ruchama. They used paddy straw, clay, water and young bamboo branches, as well as a video projector and two speakers. The aim of this workshop was to open up the field of possibilities for the installation

Still and All Remaining Alive

, which will be inaugurated during the Night of Theatre n°12.