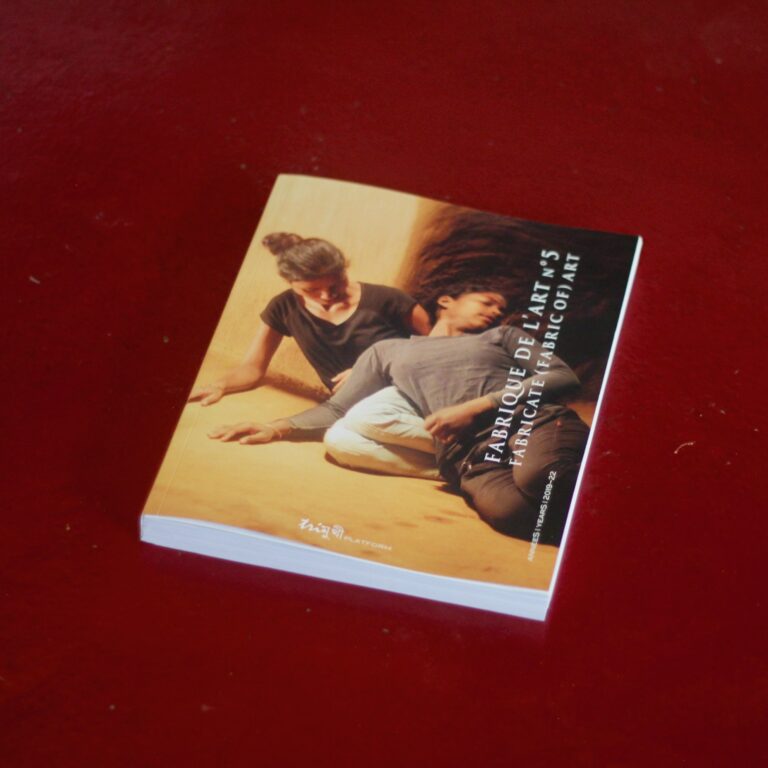 ⇒ That's it: the new issue of FABRIQUE DE L'ART is printed out. Published by Trimukhi Platform with the support of the French Institute in India, this fifth opus is above all "literary". On 192 large-format pages, meet and mingle texts by 28 writers, philosophers, stage artists and architects from India, France, Reunion Island, Mexico, USA, Palestine, Japan and Chad. A poetic journey to regain a taste for the diversity of words and worlds.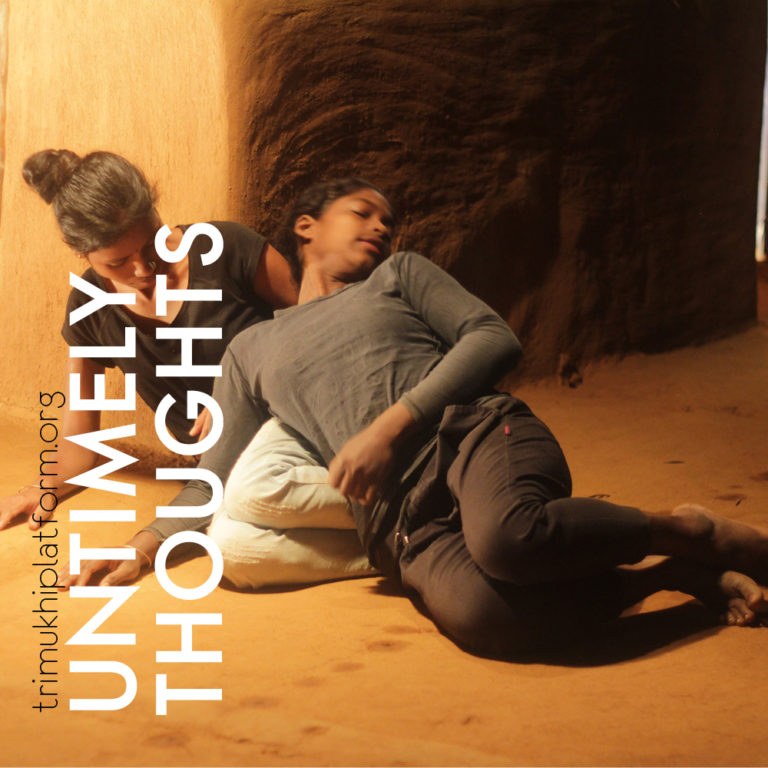 ⇒ UNTIMELY THOUGHTS was premiered on February 19, 2022 at Trimukhi Cultural Centre in Borotalpada Santhal village during Night of Theatre n°13. Some two weeks later, the performing arts piece was staged again, this time at the Consulate General of France in Calcutta. As The Statesman journalist reported, UNTIMELY THOUGHTS "left the audience awestruck: poetry in motion […] pulling the audience into a vortex of art and philosophy through contemporary dance and enchanting visuals."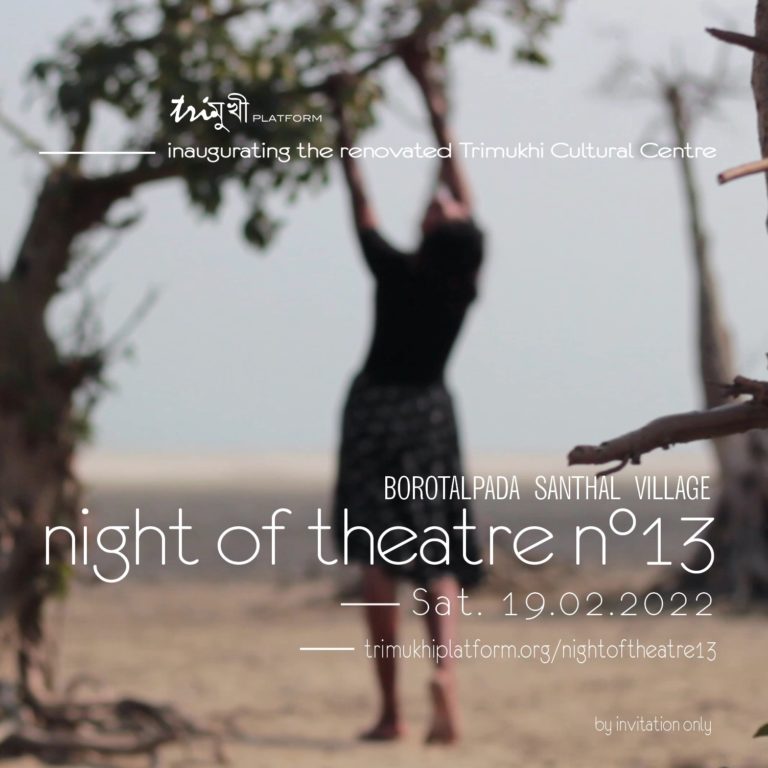 ⇒ Inaugurating the renovated Trimukhi Cultural Centre, NIGHT OF THEATRE n°13 took place on Saturday February 19, 2022 in the Santhal village of Borotalpada (West Bengal, India). This time, following pandemic protocol, the festive event started at 3:30 pm. A reduced number of invited guests from India and abroad, journalists and Borotalpada villagers were attending.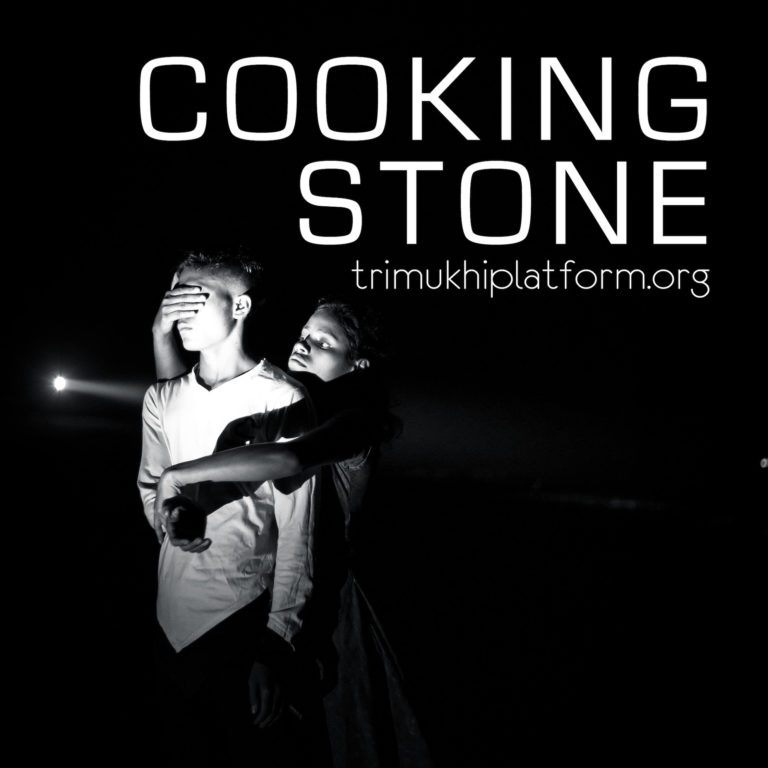 ⇒ Premiered outdoor during Night of Theatre n°12, COOKING STONE was selected to be showcased in Paris, for DANSE ÉLARGIE 2020. Due to the Covid-19 pandemic, the journey was cancelled. Instead, a video dance version was showcased in 2021 during FOKUS TANZ # 7: DANCING SCREEN organised by the Kampnagel Center for Finer Arts in Hamburg and then projected at Théâtre de la Ville, Paris, in September 2021.
MY BODY IS ANOTHER LANDSCAPE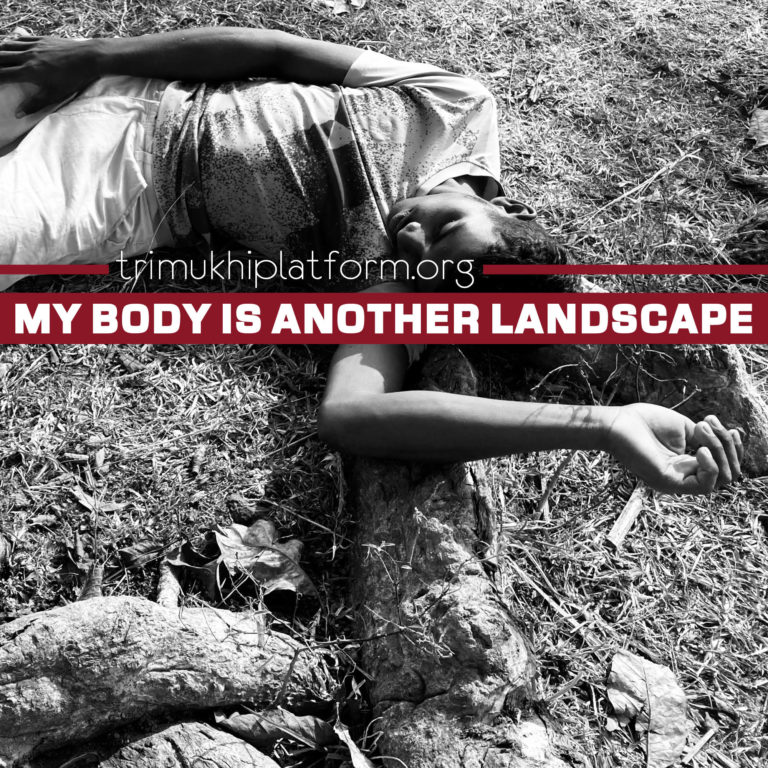 ⇒ At the invitation of the Goethe-Institut / Max Mueller Bhavan Kolkata, Trimukhi Platform worked six weeks on a piece that weaves together contemporary performing arts outdoor and cinematographic experimentation for online viewers. MY BODY IS ANOTHER LANDSCAPE was premiered in December 2020 by Goethe-Institut and showcased again in September 2021 at TANZAHOi – International Dance Festival in Hambourg, Germany.
LOS INDIOS TAMBIÉN HACEN TEATRO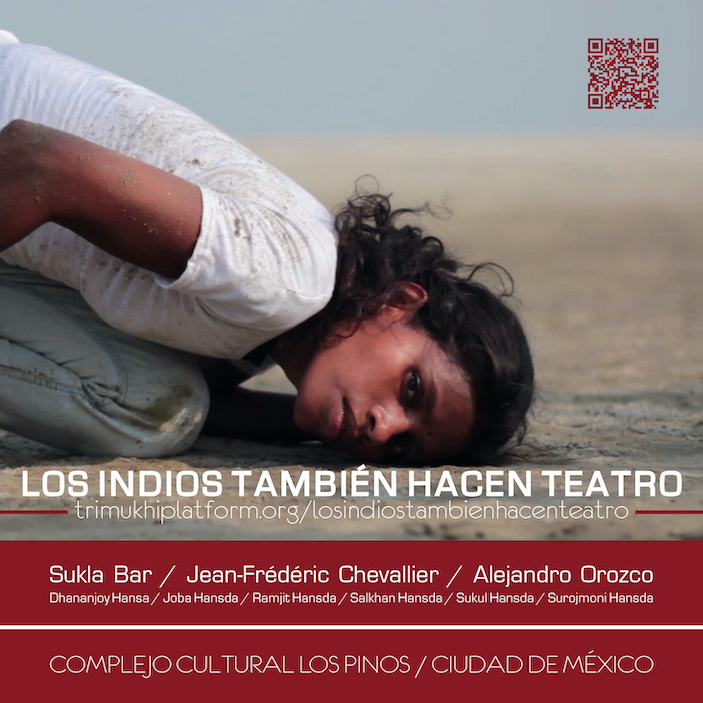 ⇒ Invited by the Metropolitan University of Mexico city, two of the founders of Trimukhi Platform joined forces with a Mexican artist to propose a video art installation from 28/05/2021 to 06/07/2021. This "huge" and "multiple" installation became the occasion of a surprising walk through unknown spaces of the former presidential palace of Mexico.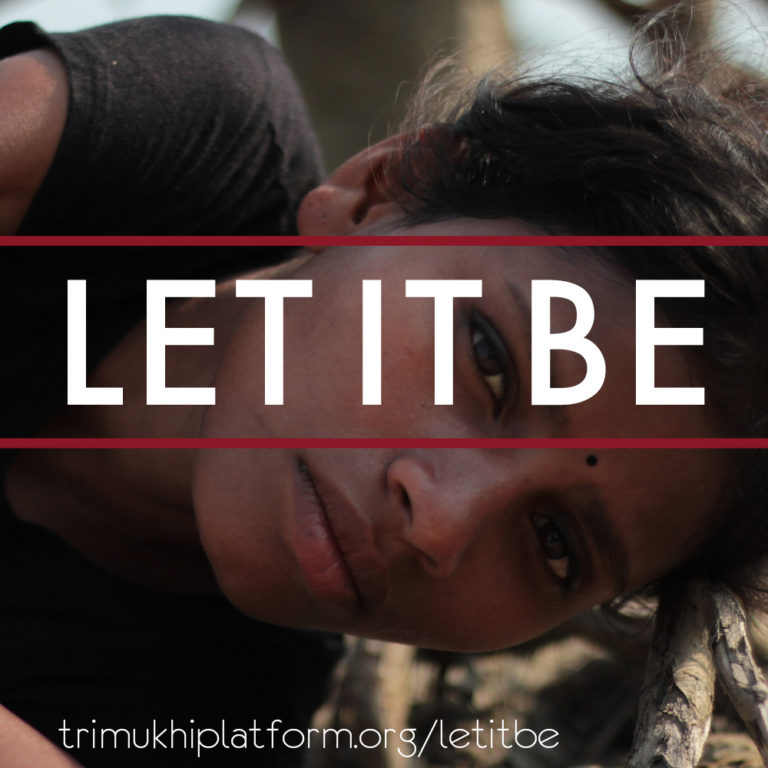 ⇒ On the seashore, Bengali Sukla Bar, French Jean-Frédéric Chevallier and Santhal Joba Hansda rehearsed and filmed LET IT BE, a video dance piece supported by the Asia-Europe Foundation (ASEF). It was the first time they worked only the three of them on sharing the surprising aesthetic effects that combining different present elements and enhancing the strength of each unexpectedly bring up.
Trimukhi Platform
— in Borotalpada village —
Born in 2008 in Borotalpada, a village near the border between Bengal and Orissa in India, Trimukhi Platform is dedicated to producing contemporary arts forms, building bridges between distant worlds and stimulating the invention of out-of-the-common thought. The collective brings together 18 families in this Santhal village (Santhal are a community of Adivasi, or "first inhabitants" – aborigines – of India) around the theatre director and philosopher Jean-Frédéric Chevallier and the art producer Sukla Bar. They have invited to collaborate artists and philosophers from Canada, Colombia, Costa Rica, Cuba, Ecuador, France, The Netherlands, India, Japan, Mexico and Spain.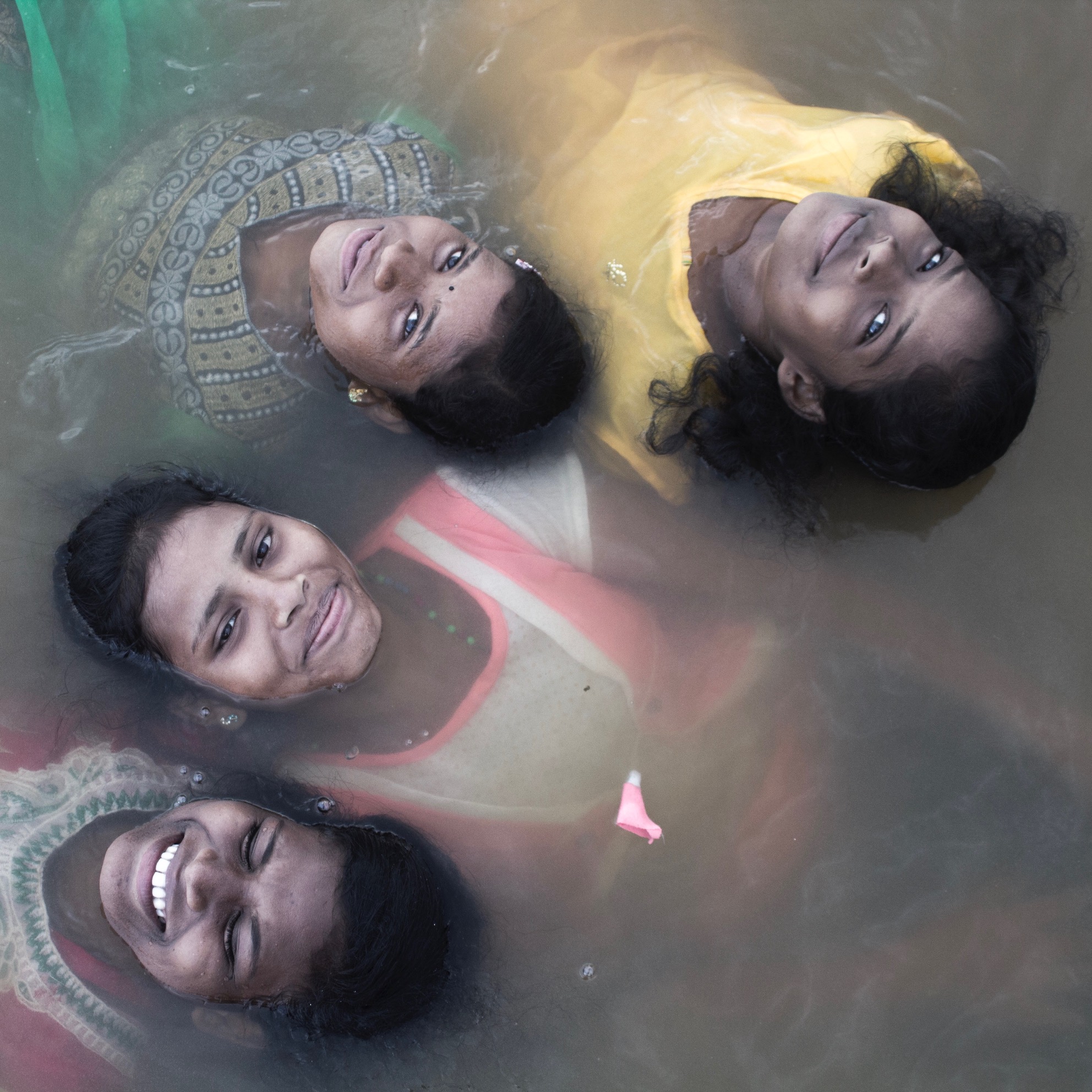 what global art might look like
No one comes back unaltered from Borotalpada village. Trimukhi Platform is made for that: so that differences be not anymore given borders between already existing groups, but lines traversing each one of us. Trimukhi Platform represents an alternative to the standardised devastation of the world. Not because it vindicates the purity of each particularity; Trimukhi Platform does not bother with authentic ethnicity and what it offers could very well exist in Avignon or Wuppertal festivals. But it creates a common ground that is not preempted by one interpretation. For this reason we can say it is "global". The global is not one and the same reality for everyone. The global is what we have to share and that in which we have to replay our differences. And I have witnessed maybe for the first time in my life, in the small village of Borotalpada, during a Night of Theatre, what global art of the future might look like.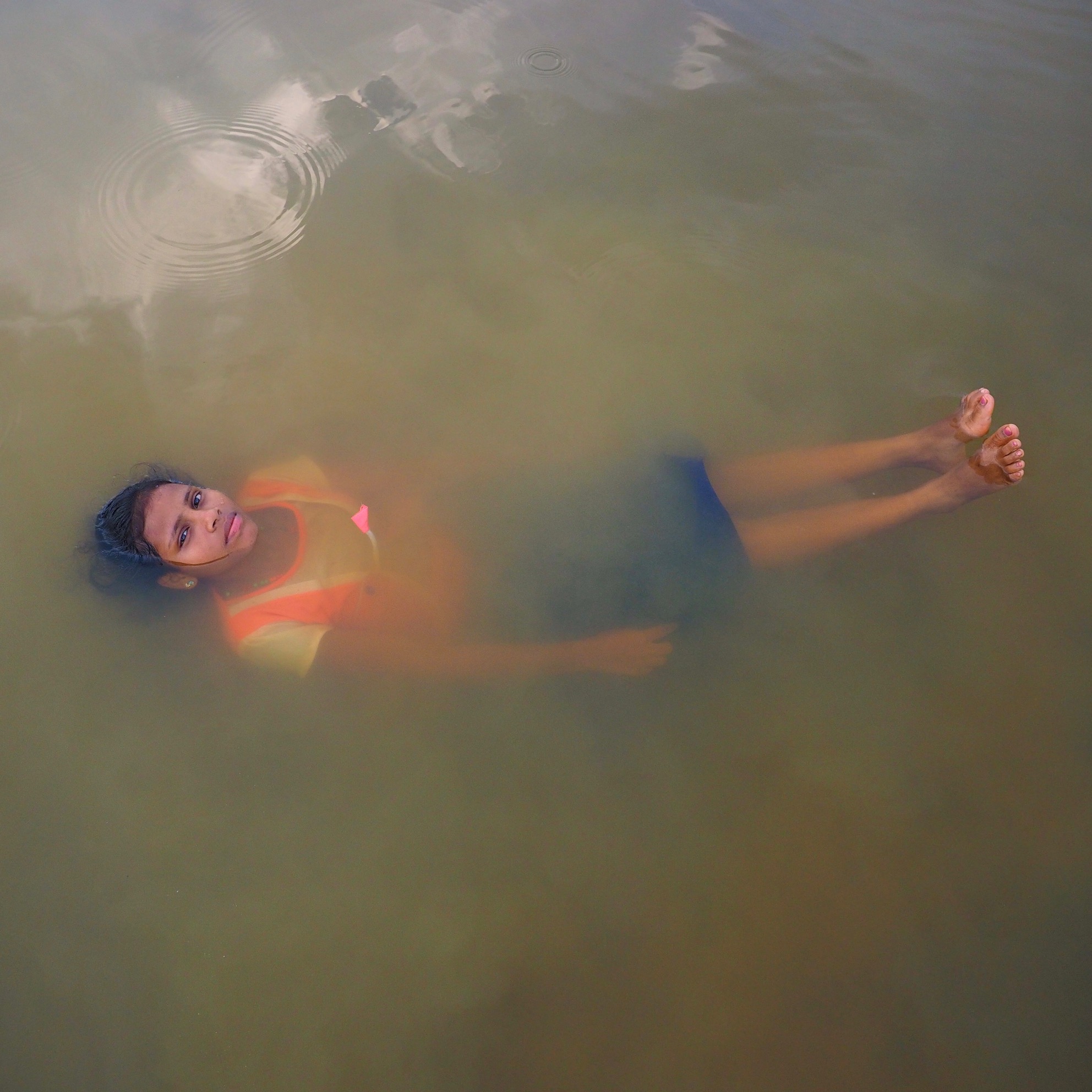 VIDEO-DANCE
— FILM-THEATRE —
Let It Be
Cooking Stone
Body Landscape
A NIGHT-LONG FESTIVAL OF CONTEMPORARY PERFORMING ARTS