home > menu > video art & film-essay  > drowning princess
Drowning Princess is the second film directed by Jean-Frédéric Chevallier and Maïa Nicolas (after Questa è la fine del mondo?, 2006). Produced by Proyecto 3, Darpana Academy of Performing Arts, Feu Faux Lait and Trimukhi Platform, it is a sensitive journey around women and their right to live, in India and elsewhere. Shot in Gujarat, Maharashtra, Kerala, West Bengal as well as in Paris, the film declines, sometimes in a playful form, sometimes in an ironic manner and sometimes in a loving way, a reflexion about the phenomena of "disappearing daughters" – due, on one hand, to social conservative pressures and, on the other hand, to dowry practice. Neither a fiction, nor a documentary, Drowning Princess is a film-essay.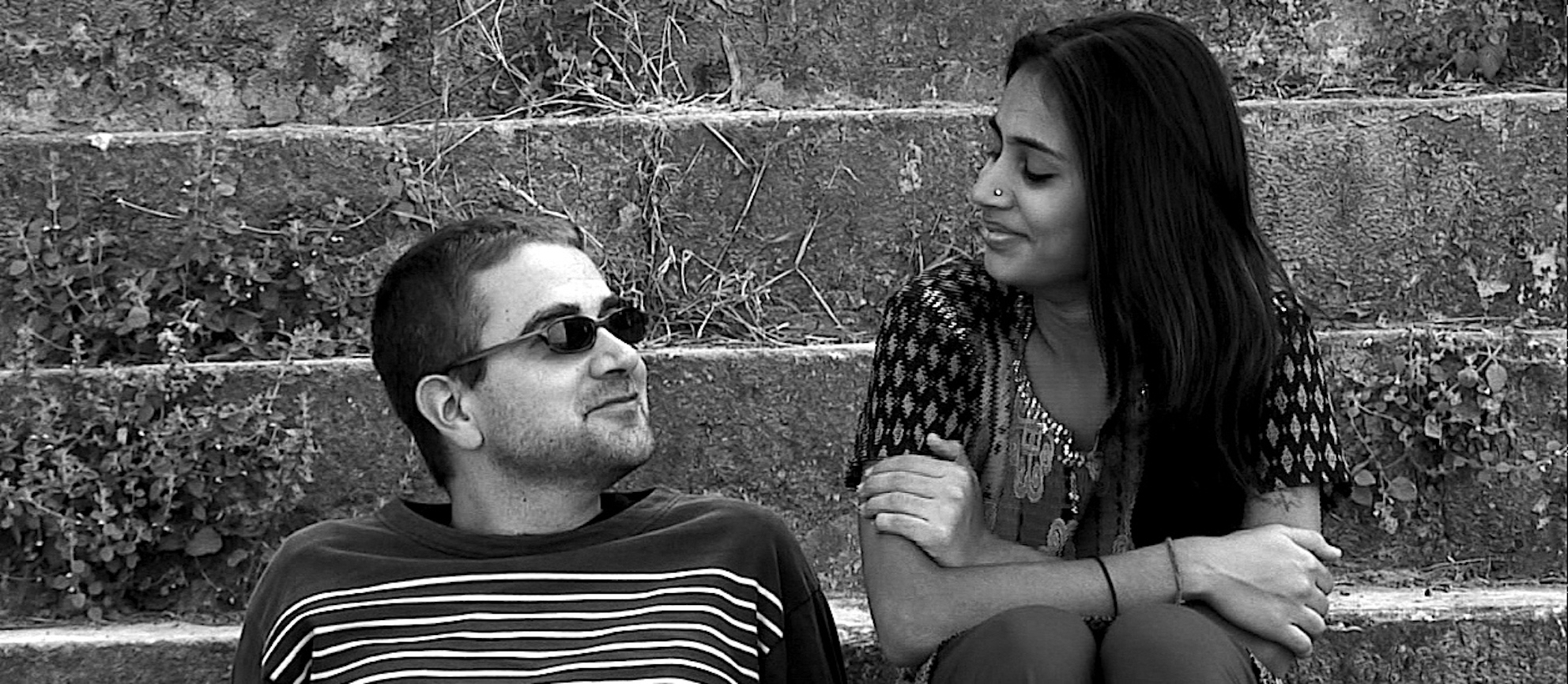 WITH Swami Aporoxananda, Soma Bag, Susmita Bag, Shibani Bagh, Meenaxi Baria, Fatma Begum, Ana Chatterjee, Jean-Frédéric Chevallier, Sudipta Das, Falguni Hansda, Kajal Hansda, Phulmoni Hansda, Kalicharam Hembrom, Mado Hembrom, Sajda Khatoon, Kiran Kori, Ramkumari Kori, Matthieu Mével, Charmi Modi, Carla Mory, Anika Murmu, Ikue Nakagawa, Maïa Nicolas, Zubaida Nizam, Divya Raghavan, Neha Ramanuj, Anahita Sarabhai, Latika Sardar, Smiral Shah, Samia Singh, Arundhati Singha, Bharat Sisodia, Rani Soren, Pinakin Thakkar
SOUND AND SECOND CAMERA Gaurav Singh
DRIVER Bharat Sisodia
LOGISTIC SUPPORT IN GUJARAT Yadavan Chandran, Neha Ramanuj, Mallika Sarabhai, Neina Sardar, Pinakin Thakkar
LOGISTIC SUPPORT IN BOMBAY Swami Aporoxananda
LOGISTIC SUPPORT IN NEW DELHI Julien Nenault
LOGISTIC SUPPORT IN WEST BENGAL Babita Baidya, Ranjit Gomes, Motilal Hansda, Luisa Kujur, Rinku Naskar, Rita Noeth, Pushpa Rani, Chamru Soren, Girish Soren
EXTRA LIGHTING IN BOROTALPADA Gopal Besra, Naram Kisku
COLLABORATION Sukla Bar Chevallier, Pinakin Thakkar
PHOTOGRAPHY AND DIALOGUES Jean-Frédéric Chevallier
WRITTEN AND DIRECTED BY Jean-Frédéric Chevallier and Maïa Nicolas
PRODUCED BY Proyecto 3 (Mexico), Feu Faux Lait (France), Darpana Academy of Performing Arts and Trimukhi Platform (India), 2007-2011
DISTRIBUTED IN FRANCE BY L'HARMATTAN
REFLECTIONS ON THE FILM
By Gaston Roberge s.j. – 12 Sept. 2013
Introduction

This is not an ordinary film. It is demanding both in its subject and in its presentation. One can wonder how much of it a viewer can absorb in one screening. I hope that the following reflections will be of some assistance to all.

Part One:  The title of the film

In 1880, Princess Sunandha Kumariratana then 19 years of age was the Queen of Thailand. She died in a dramatic event. She was on a ship that started to drown. Several people where seeing what was happening but the royal bodyguard forbade them to touch the body of the queen, as  they were unworthy to do so, and hence he prevented them from saving the queen from a sure death. While that event is not referred to in the film, except through the film's title, that title can suggest that the film is a documentary. It is not, although, as Chevallier says during the film itself, the film is based on data.

The title, however, has a more important effect. It makes the drowning of a Thai princess an icon of what is happening to the young women of our time. And that icon confers the aura of the highest class of society to the young women murdered nowadays.

Part Two: The presentation of the film

From the very start of the film, and indeed until the end of it the quality of the images is deeply impressive, in beautiful black and white at times changing into colours.  There is a focus on the human face. And since in the Indian tradition to look with one's eyes is to touch what one looks at.

As I perceive it, the film emphasizes faces, especially (but not uniquely) of young women. It is as if the film wants the spectator to feel the attraction of the feminine face.

The surrounding of the people, especially in the urban areas, are speedily moving objects: cars, cycles, trains, etc.

Some critics have felt that the author consciously looked for how to pass from one image to another. Personally, I found his method different: I saw it as what Eisenstein had already called 'vertical montage', where you pile up images and sound to form a unique piercing feeling or idea, with no concern for the continuity or lack of it from the points of view of time and space.

At the very beginning of the film, while the title of the  film appears, on the side of it the close-up image of a young girl appears and turns on itself some four times. This suggests that the film is going to be a montage of images and events rather than a linear narration.

Besides, there are several cuts to a black screen to indicate a change from one fragment to another. I would like to know how many shots there are in the film. Let me refer again to Eisenstein: his The Battleship Potemkin, a film of 1925 has about 2000 shots in its length of 75 minutes.

There are at least two dances: one being a Santali dance (after 4.45 minutes); the other in the classical style (after 11.10 minutes). These dances added a wide spectrum of aesthetics to the film.

Part Three: The size of the film

The size of the film is, to say the least, fascinating. By size here I mean a variety of numbers as follows:

Number of persons involved in the making of the film (see the list of credits at the end of the movie; it goes on for nearly five minutes)
Number of persons playing a role in the film
Number of locations: eight, namely Paris, Ahmedabad, Cochin, Bombay, Barasat, Kolkata, Borotalpada
Number of scenes
Number of parts or fragments
Number of countries
Number of people of different ages: from childhood to old age
Number of aspects of life described
Number of music items and at least two movies (Bobby and Kapurush-o-Mahapurush) inspiring the film

Part Four: Sex in the film

But there is also the dimension of the film's subject: how can I define it? Perhaps, the sexual relationship of a young woman with a young man?

That is a very important issue in human life today. While I am not absolutely sure of the impression I had, I cannot ignore it. Namely I felt that the film dealt with the topic in a manner somewhat detached from its context. In fact, the context is very intimate and very multifaceted. First, there is the human aspect. How is a person more human by having sexual relations or – for some reason – by abstaining from these? How does the totality of a person express him/herself in the sexual act? In a word, is the sexual act just sexual or a part of a love relationship?

However detached the film may appear to be at first,  there is a contextual aspect with which the film deals. And that aspect is the social ideas and practices about sexual relations prevalent in the present milieu of our young men and women. The film does not seem to want to explain anything or to propagate any ideas. It invites a reflection.
---
première in Ahmedabad at Darpana Academy of Performing Arts • January 4, 2009
première in Mexico city at Teatro Sor Juana Inéz de la Cruz • September 9, 2009 • Night of Theatre n°4
première in Bogota at Teatro Occidente • April 7, 2011
première in Kolkata at Max Mueller Bhavan - Goethe Institute • March 9, 2015
DVD and VOD distributed in France by L'Harmattan