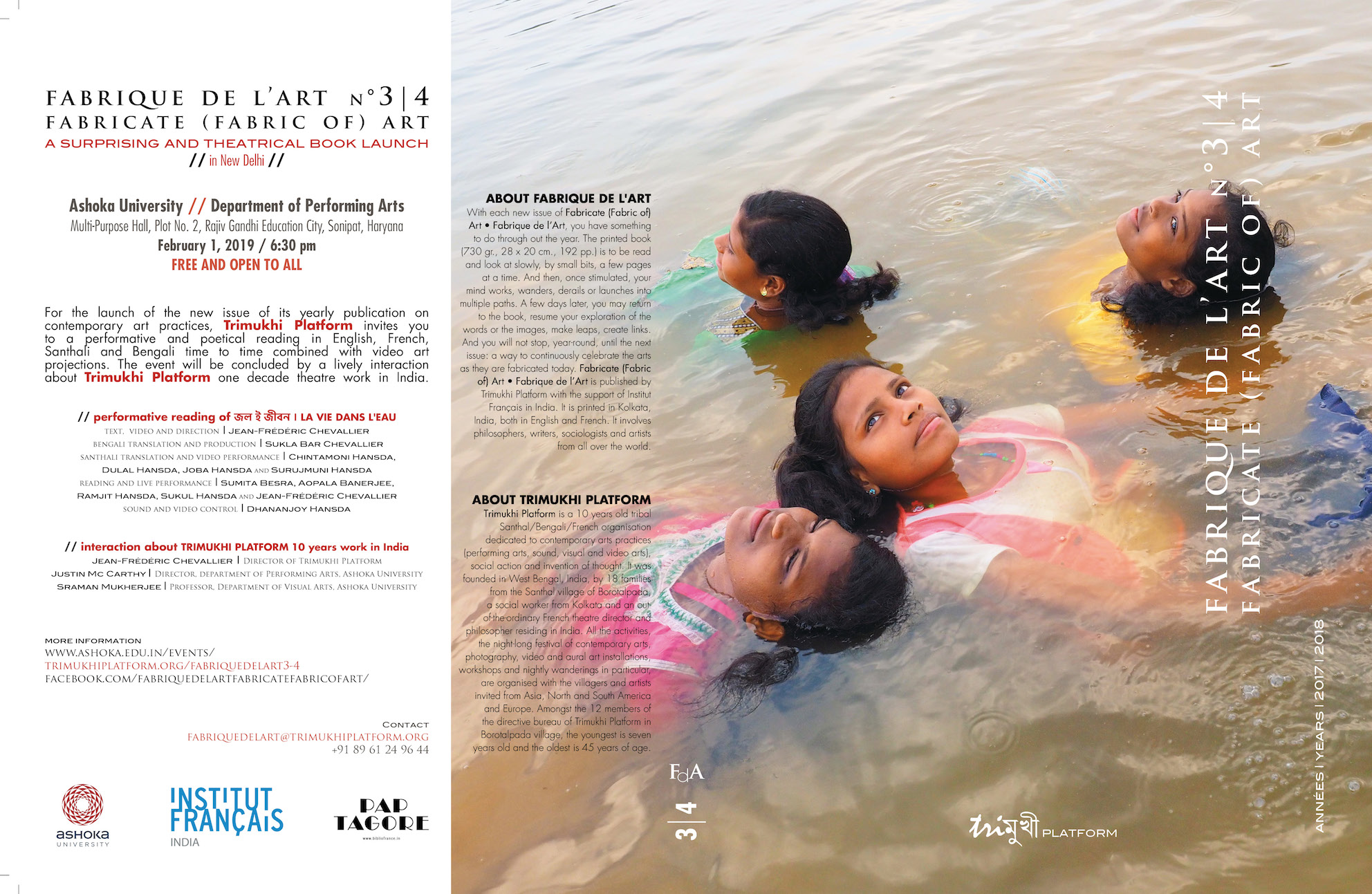 ---
FABRIQUE DE L' ART • FABRICATE (FABRIC OF) ART n°3/4
launched in a surprising and theatrical way
at Ashoka University // NEW DELHI >> February 1, 2019, 6:30 pm
at Alliance Française du Bengale // KOLKATA >> December 19, 2018, 7:00 pm
at Munir's Place // KOLKATA >> December 17, 2018, 8:00 pm
free and open to all
For the launch of the new issue of its yearly publication on contemporary art practices, Trimukhi Platform presents a performative and poetical reading in English, French, Santhali and Bengali time to time combined with video art projections. The event is concluded by a lively interaction about Trimukhi Platform one decade theatre work in India.
// Performative reading of জল ই জীবন । LA VIE DANS L'EAU //
text and video Jean-Frédéric Chevallier • translation into bengali and production Sukla Bar Chevallier • translation into santhali and video performance Chintamoni Hansda, Dulal Hansda, Joba Hansda and Surujmuni Hansda • special video appearance Fabrice Plançon • read and performed by Aopala Banerjee, Sumita Besra, Ramjit Hansda, Sukul Hansda and Jean-Frédéric Chevallier • sound and video control Dhananjoy Hansda • produced by Trimukhi Platform, Alliance Française du Bengale and Department of Performing Arts of Ashoka University
// Lively interaction about TRIMUKHI PLATFORM theatre work //
with Jean-Frédéric Chevallier  | director of Trimukhi Platform • Virginie Corteval | General Consul of France in Kolkata  • Anjum Katyal | Director of Apejay Literary Festival • Justin Mc Carthy | Head department of Performing Arts, Ashoka University • Samantak Das | Head department of Comparative literature, Jadavpur University • Sraman Mukherjee | Assistant Professor, Department of Visual Arts, Ashoka University
---
ABOUT FABRIQUE DE L' ART
With each new issue of FABRICATE (FABRIC OF) ART • FABRIQUE DE L'ART, you have something to do through out the year. The printed book (730 gr., 28 x 20 cm., 192 pp.) is to be read and look at slowly, by small bits, a few pages at a time. And then, once stimulated, your mind works, wanders, derails or launches into multiple paths. A few days later, you may return to the book, resume your exploration of the words or the images, make leaps, create links. And you will not stop, year-round, until the next issue: a way to continuously celebrate the arts as they are fabricated today. FABRIQUE DE L'ART is published by Trimukhi Platform with the support of Institut Français in India. It is printed in Kolkata, India, both in English and French. It involves philosophers, writers, sociologists and artists from all over the world.
⇒ download cover and table of content (PDF)
---
ABOUT TRIMUKHI PLATFORM
TRIMUKHI PLATFORM is a 10 years old tribal Santhal/Bengali/French organisation dedicated to contemporary arts practices (performing arts, sound, visual and video arts), neighbourhood relations and invention of thought. It was founded in West Bengal, India, by 18 families from the Santhal village of Borotalpada (Motilal and Falguni Hansda, Delko and Kanai Hansda, Mado and Kalicharam Hembrom, Chamru and Sunita Soren, Bhudray and Sumita Besra, among others), a social worker from Kolkata (Sukla Bar) and an out-of-the-ordinary French theatre director and philosopher residing in India (Jean-Frédéric Chevallier). All the activities, the night-long festival of contemporary arts, photography, video and aural art installations, workshops and nightly wanderings in particular, are organised with the villagers and artists invited from Asia, North and South America and Europe. Amongst the 12 members of the directive bureau of Trimukhi Platform in Borotalpada village, the youngest is seven years old and the oldest is 45 years of age.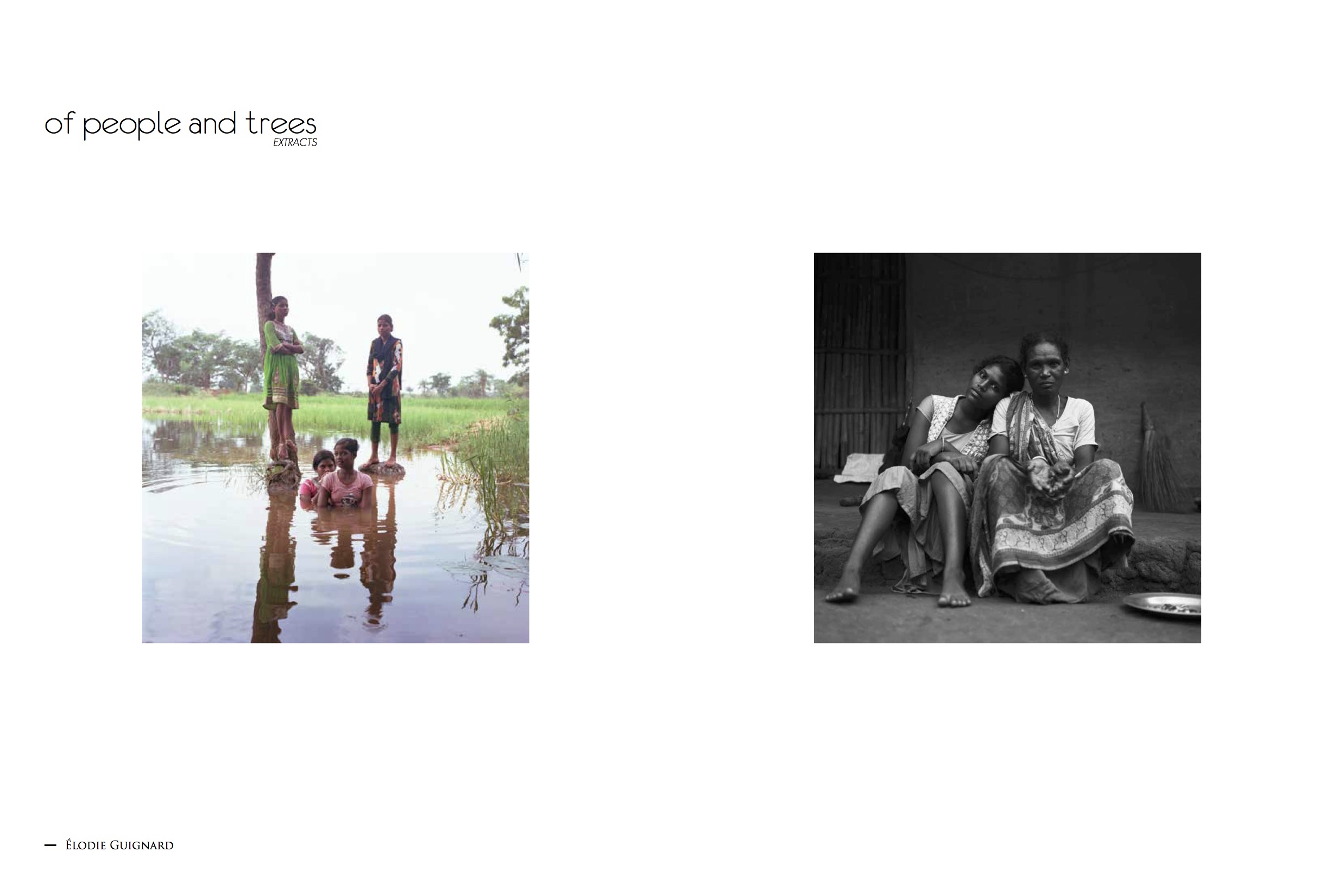 ---
---
Bhudray Besra | India • Susmit Biswas | India • Barbara Cassin | France • Jean-Frédéric Chevallier | France | India • Jon Cook | Great Britain • Joseph Danan | France •  Samantak Das | India • Denis Guénoun | Algérie | France • Élodie Guignard | France • Chintamoni Hansda | India • Dhananjoy Hansda | India • Dulal Hansda | India • Joba Hansda | India • Ramjit Hansda | India • Salkhan Hansda | India • Sukul Hansda | India • Surujmoni Hansda | India • Nicolas Idier | France • Cuqui Jerez | España • Anjum Katyal | India • Fui Lee Luk | Australia | France • André Éric Létourneau | Canada • Patrice Maniglier | France • Ariane Mnouchkine | France • Ikue Nakagawa | Japan | Belgique • Priti Paul | India | Maroc | France • Sunandan Roy Chowdhury | India • Pini Soren | India
---
Directrice de la publication • Editor-in-chief SUKLA BAR CHEVALIER | India • Rédacteur en chef et director artistique • Managing editor and Artistic director JEAN-FREDERIC CHEVALIER | France | India] • Comité de redaction • Drafting Committee BERTHA DIAZ |Ecuador + ANJUM KATYAL | India + DAMAYANTI LAHIRI | India + CHITTROVANU MAZUMDAR | India • Soin et révision de l'édition en anglais • English proofreading and editing FUI LEE LUK | Australia | France • Soin et révision de l'édition en français • French proofreading and editing GWENAEL BARRAUD + MARIE-LAURENCE FAVEREAU | France • Distribution et vente • Distribution and marketing AOPALA BANERJEE | India • Editor • Publisher TRIMUKHI PLATFORM ART AND CULTURAL ORGANIZATION | India
---
Printed by CDC Printers • Kolkata • December 2018 • Distributed outside India by SAMPARK Global Media • ISSN 2395 7131 © Trimukhi Platform Art and Cultural Organization • Kolkata • 2018