Written and directed by Jean-Frédéric Chevallier in collaboration with Surujmoni Hansda and all Trimukhi Platform creative team, produced by Sukla Bar Chevallier, JOL i JIBON • LIFE IN THE WATER takes place in the water, for about one hour. The audience is seated on the bank of a lake in the countryside. The range of vision is about 700 meters wide, including path and trees behind the lake. Time to time the performers whisper strange words, almost poetical ones, alternatively in English, French, Santhali and Bengali.
The performance was in water: it happened in a sort of waterbody where the water dries slowly in summer and gets full again in the rainy season. It's very shallow. So they did it there and that took quite bit of time, and created one of the most amazing effects. Maybe I will write about it later. I keep thinking that Jean-Frédéric Chevallier is increasing his space. At one point there were these sky lanterns − so the stage was like half a kilometre long, because there were actions going on and the sky lanterns slowly drifting off.
Samantak Das, "Theatre – Today", Fabrique de l'art, n°3/4, 2017-2018, p. 160.
The performance takes place in the waters of a lake at the outskirts of the village. « I have been working on a poetical text. It is composed to oblige you to think. Or at least that's what I am trying. I wrote the main parts in French and we translated them with the team of Trimukhi Platform. We use it sometimes in Santhali, sometimes in English, in French or in Bengali. But even if you listen to them in your own mother tongue, the words will trouble you inside. And it is combined with the vision of bodies evolving in the water as you sit on dry land to watch this show », says Jean-Frédéric Chevallier.
Dipanita Nath, "The Night is Bright", The Indian Express, January 8, 2018, p. 19.
---
জল ই জীবন । LA VIE DANS L'EAU 
theatre of presenting
directed by Jean-Frédéric Chevallier in collaboration with Surujmoni Hansda produced by Sukla Bar Chevallier for Trimukhi Platform director assistant Dhananjoy Hansda performed in the water and lighted by Dulal Hansda, Joba Hansda, Chintamoni Hansda, Surujmoni Hansda,Ramjit Hansda, Sukul Hansda, Salkhan Hansda, Pini Soren, Lilian Hansda and Paromita Hansda with the participation of Nirmola Mandhi, Regina Besra, Fulu Tudu, Songita Hansda, Raimoni Tudu, Jobarani Murmu, Nitali Mandi, Budhumoni Tudu, Laxmi Mahato, Surojmoni Hembrom, Chintamoni Soren, Surujmoni Mandi, Luchi Mandhi, Gurubari Soren, Parboti Mandhi, Kakoli Hembrom and Ruma Soren original texts, video projections and sound design by Jean-Frédéric Chevallier translation to Bengali Sukla Bar Chevallier translation to Santhali Trimukhi Platform
---
première on January 27, 2018 in the lake at the outskirts of Borotalpada village during Night of Theatre n°10 • La Nuit des Idées

the performance was showcased again on November 3, 2018 on the occasion of the 10 Years Anniversary Celebration
---
⇒ download the theatre text used during the performance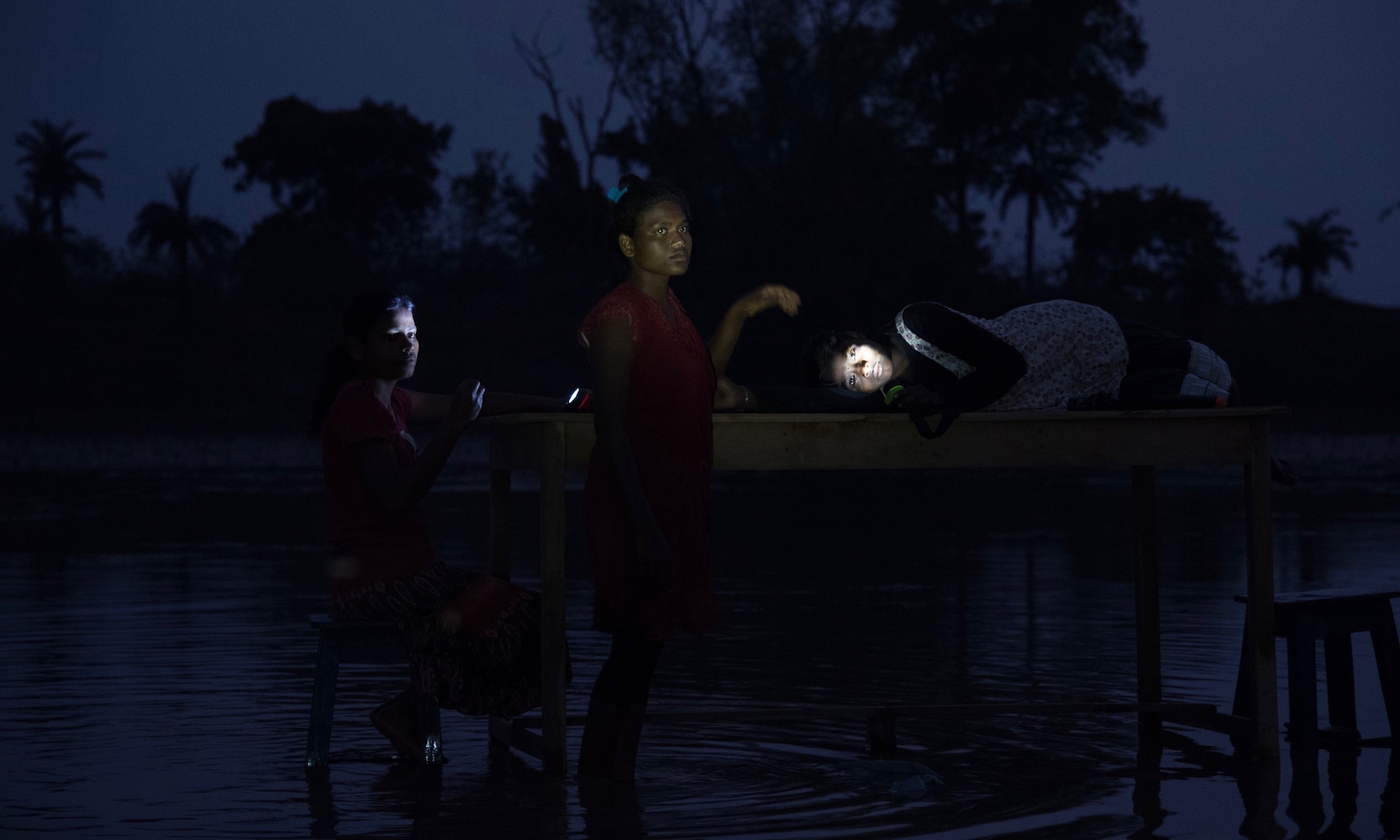 in the press
Read the story in The Indian Express →
Read the story in India Today →